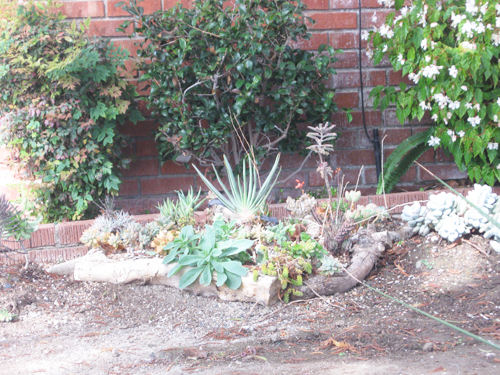 From stalwart commentor Mary G:
Some photos of phase 1 of my front yard rehab. Spent some money on the big and unusually colored plants, but most were grown from babies (cuttings, leaves, $1.99 2 inch pots from Lowe's, and from sales of the OC Cactus and Succulent Society) by me.

The design and installation was done by my housemate B with very little input from me except pictures before he started.

The wood is from a ficus tree right next to the house that was chopped six years ago and never gotten rid of. I wanted to buy a big hunk of driftwood, but since California's rivers and creeks are lined with concrete now, it costs between $150-$500, so it's out of reach.

The cactus and stapelia in the pots on the bricks are my babies – the only survivors of hundreds of seeds I started and didn't take good enough care of. The strawberry under the table planted itself from a runner – it gets no sun at all, but grows anyway.

Next phase is rehab of the front entry (it had to fall to the jackhammer to get rid of the Orangeburg pipe) as well as a new concrete pathway across the yard so I can get to the side gate in my wheelchair. Then to the building supply for more rocks.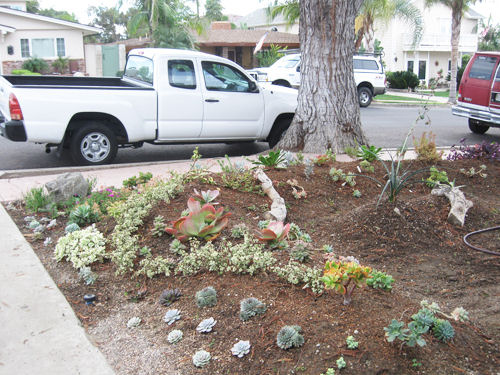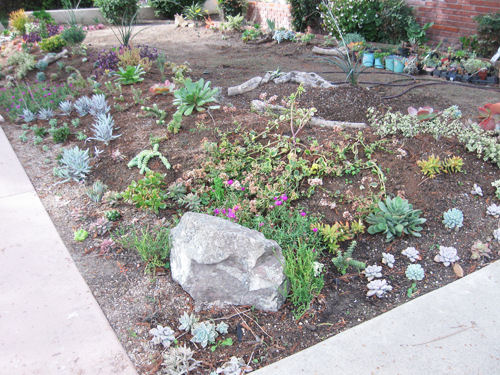 ***********
What's going on in your garden(s) this week?