Here's the latest photo from faithful Balloon Juice reader and fellow Floridian "cope" — a green anole contemplating a metalwork sculpture of its Frog God: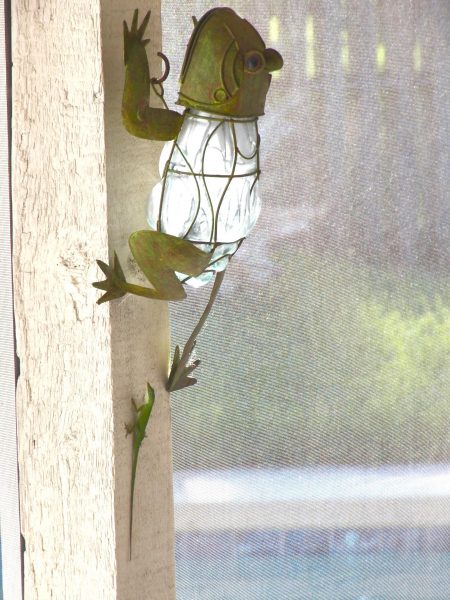 Or maybe it just figures that's a good spot for a green critter to blend. Cope says green anoles have made a comeback in his yard. I hadn't noticed a drop in their numbers, despite my dog Daisy's attempt to hunt them to extinction on our property.
We spent a mostly quiet weekend here in Cockroach Acres. Lured our kid and her SO over for dinner with a big pot of spaghetti sauce and the mister's famous garlic knots. There was some discussion of Thanksgiving and what everybody's cooking.
I'm assigned the turkey and dressing. Turkey I know how to cook, but I have to make a vegetarian dressing this year. This sounds like a decent recipe from the Epicurious site. Has anyone tried it?
Anyhoo, that's all I've got as the weekend winds down. What's up in your neck of the woods?