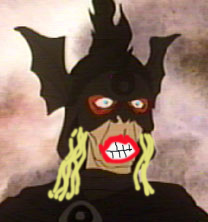 It's minor in the scheme of things, but among my many regrets about the outcome of the recent election is the prospect of being exposed to Kellyanne Conway for the duration of the shit-gibbon administration.
I get that people must sometimes do unsavory things for money. I'm not particularly proud of my stint years ago as a PR flack for an insurance company, where I toiled in the service of evil while telling myself that didn't make me a bad person.
But for Conway, it's not just a job. She, like her boss, is an awful person. Here's Conway on "Morning Joe," where she appeared to spin the shit-gibbon's decision (not his to make) not to pursue Hillary Clinton on charges related to her (non-criminal, as per an exhaustive investigation) handling of emails into an act of generosity:
"I think when the President-elect, who's also the head of your party, tells you before he's even inaugurated that he doesn't wish to pursue these charges, it sends a very strong message, tone, and content" to fellow Republicans, Conway said in an interview on MSNBC's "Morning Joe."

Conway said Clinton "still has to face the fact that a majority of Americans don't find her to be honest or trustworthy," but added that "if Donald Trump can help her heal, then perhaps that's a good thing to do."
God, what an arrogant, vindictive, malicious asshole that woman is. It's not like Clinton is out there calling for an audit of the vote, even though she's on track to win the popular vote by an unprecedented two million and there were irregularities aplenty that by rights SHOULD result in an investigation and a lot more controversy than there currently is, IMO.
No, we're on track to inaugurate Conway's embarrassing buffoon of a boss to a role for which he is manifestly unqualified, and the popular vote winner not only conceded graciously, she's kept a low profile since. But that's not enough to satisfy Conway's spite; she has to twist the knife.
Anyway, not looking forward to seeing Conway play Mouth of Sauron for the next four years. Since Trump is busily filling his cabinet with the dregs of society, Conway likely won't even crack the top 10 list of worst people in the shit-gibbon orbit, what with all the neo-Nazi pals, gropers, racists, etc. But she sure is a malignant turd.
ETA: The more I think about it, the more I'm convinced that this is Trump's "Nazi Frog Moment." Remember Bill Clinton's so-called "Sistah Souljah" moment, when he denounced a controversial black entertainer to solidify wavering support among whites? Well, the shit-gibbon's reversal on "lock her up!" isn't going down well with the usual suspects, including the editors at neo-Nazi hub Breitbart, which is Trump's chief strategist's baby.
Now, not only does the shit-gibbon not have to further alienate half the country and make a fool of himself by urging his DOJ to fruitlessly prosecute an innocent person, Conway gets to simper and gloat about Clinton, and there's a chance the more gullible among us will see it as a magnanimous deed that conveniently leaves a "cloud" over the person who actually won the most votes. Win-win if you're a narcissist surrounded by vipers.