A small, delusional narcissist who can't focus on the fact that he won the big prize but has to quibble over the implicit slights in his historic popular vote loss: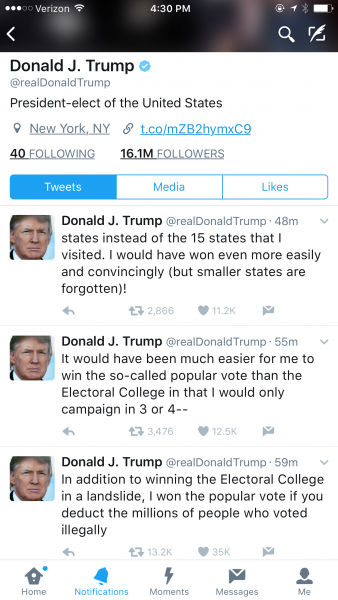 Never mind that alleging massive voter fraud hardly serves his cause — people are saying he was beaten by a girl! Outrage!
This is your president-elect, Trumpkins. You were taken in by a not-too-bright conman. That makes you an especially idiotic mark.
Had you only squandered your life sayings on a hard-sell shakedown disguised as a real estate course, it wouldn't be any of my business, except perhaps as a concerned citizen who wants to shut down similar scams.
But with your vote, you made me and mine collateral damage to the con you signed up for, and second-class citizens into the bargain.
Wanted to "send a message," did you? Well, message received, motherfucker: You don't give a shit about this country that you've entrusted to a lunatic. Never dare to question my patriotism again.
So, he's all yours, Trumpkins. Defend his petty vendettas at the cost of your soul. Or sack up and join the resistance.