...it's you:
Again and again, President-elect Donald Trump presented himself as the coal miners' candidate. During the campaign, he promised to bring coal back into the economy, and jobs back into struggling Appalachian towns.

But now some in coal country are worried that instead of helping, Trump's first actions will deprive miners — and their widows and children — of the compensation they can receive if they are disabled by respiratory problems linked to breathing coal mine dust.

That's because buried in the Affordable Care Act are three sentences that made it much easier to access these benefits. If Trump repeals Obamacare — as he vowed to do before the election — and does not keep that section on the books, the miners will be back to where they were in 2009, when it was exceedingly difficult to be awarded compensation for "black lung" disease.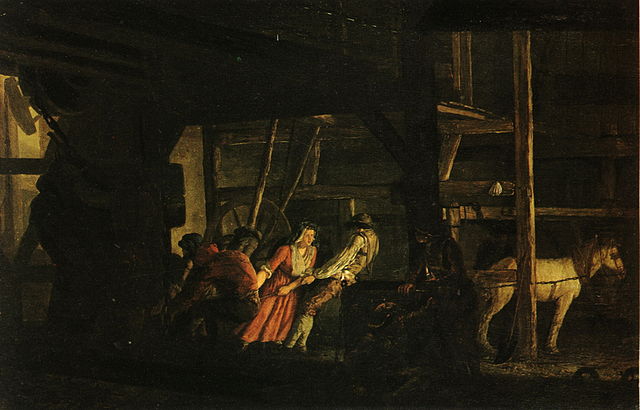 This is by no means a done deal, given that at least some coal-country legislators (Joe Manchin, for one) have declared their support for retaining this in whatever comes out of the health care catastrophe the GOP is determined to commit.  But McConnell is, as usual, mum on the matter, and if I were a coal mining family depending on the pittance they do get (top payment for a miner with three dependents: $1,289/month), I'd be getting ready not for hard times — they're already here — but worse.
[update: obligatory post soundtrack]
The key change the ACA implemented in black lung cases was to shift the burden of proof: instead of a miner having to prove that the work caused the disease, under the new rules,
If a miner has spent 15 years or more underground and can prove respiratory disability, then it is presumed to be black lung related to mine work, unless the company can prove otherwise.
This wasn't a case of free money all around. As reporter Eric Boodman writes,  "In 2009, 19 percent of claims for black lung benefits were successful; in 2015, that percentage had jumped to 28." That's a big jump — but hardly evidence that the black lung compensation process is a wild government grab of beleaguered coal company assets.
Those companies hate the rule, with a spokesman telling Boodman that it's created "a supplemental pension program" rather than the compensation for occupational disease, which is as fine a bit of high priced turd polishing as I've seen in a while.
TL:DR?  Think of this as Mencken's rule in action:
Democracy is the theory that the common people know what they want, and deserve to get it good and hard.
Trump voters in coal country — West Virginia, Pennsylvania, Ohio, Kentucky — were promised their country back.
What will they receive?
The shaft, deeper and darker than any hole miners have dug in the hunt for what will continue to kill them where they stand.
Image: Léonard Defrance, Coal Mining, before 1805.