Here's an intriguing photo from reader "cope" featuring a waterspout on the edge of a squall: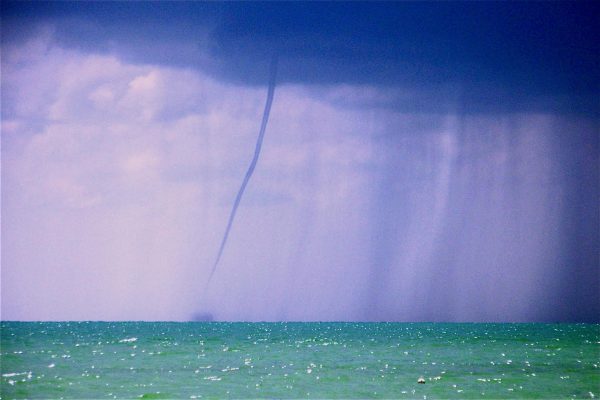 Continuing the rain theme: I pulled a great hoax on my husband earlier today. A while back, he attempted to replace the shower head in the master bathroom with a fancy new "rain" model. But when he was unscrewing the old fixture, the connector that attached it to the water pipe sheared off behind the tile wall.
The mister experimented with various ways to remove the broken connector in his spare time. Meanwhile, we were forced to take showers in the other bathroom, which is a tub enclosure rather than a shower stall.
I just hate tubs — I had never used that shower in the 12 years we've lived here until this plumbing crisis for that reason — so I was all for calling a plumber right away. The mister thought he could save a few bucks by figuring it out himself…when he had time to fool with it. His big fear was the plumber would have to knock down part of the tile wall to get at the problem, which would be an expensive mess to fix on top of the plumbing bill.
Long story not quite as interminably long, he finally gave up and agreed on the need for a professional, but did so the day before Thanksgiving. So I had to wait until today to call a plumber, who showed up within half an hour and fixed the pipe in a jiff (without wall damage) for an extremely reasonable fee — all while my husband was out.
Instead of telling my husband about this marvelous jewel of a plumber, I told him I had figured out how to fix the pipe. I told him I'd used pliers to reach through the hole and pull the pipe forward, sawed off the broken connector without damaging the threads and installed the new connector and shower head. And he believed me!
We've been married for 20 years and do not lie to each other about important things (e.g., money, birth control, etc.), but we do occasionally make up fantastic stories to see how gullible the other person is. Actually, he is much more prone to do that than I am, so much so that my first reaction is to disbelieve him when he tells an outlandish tale. He's actually got quite a talent for making up plausible-sounding explanations for scientific phenomena, historical events, etc., inventing things out of whole cloth, right on the spot.
So I was very proud of my ability to pull off the plumbing hoax with a straight face, for the five minutes or so I was able to maintain the illusion without laughing at his astonishment. He'll try to get back at me somehow, but I will be ready. Anyhoo, open thread!