You screwed yourself good this time:
But that drop, it turns out, is even more pronounced among poor whites. Gallup-Healthways tells me that among whites without a college degree who have household incomes of under $36,000, the uninsured rate has dropped from 25 percent in 2013 to 15 percent now — a drop of 10 percentage points. It's often noted that the law has disproportionately expanded coverage among African Americans and Latinos. That is correct, but it has also disproportionately expanded coverage among poor white people.

Now, it's hard to know how many people we're talking about here. But other evidence supports the idea that a lot of red state voters have gained coverage from the law. In some parts of rural Kentucky, the Medicaid expansion has greatly expanded coverage. And CBS News recently reported that even some Republican officials in the GOP-led states that expanded Medicaid are not prepared to see that evaporate. Gallup-Healthways numbers also show that the drop in the uninsured rate has outpaced the national average in some red states that have expanded Medicaid, like Kentucky, Arkansas, and West Virginia.

Did people benefiting from Obamacare who voted for Trump really expect repeal to happen? I think we need more reporting on this question. Yes, Trump did repeatedly say he would repeal Obamacare. But he also said he would replace it with "something terrific." And he explicitly went out of his way to create the impression that he does not agree ideologically with Republicans who are hostile to government efforts to supply health care to those who can't afford it.

Now, it's always possible that many voters backed Trump in the full knowledge that their Obamacare might be repealed, for other reasons — because, for instance, he'll supposedly bring manufacturing and coal jobs roaring back. Before long, those voters will learn whether their bet was a well-placed one. It's also possible that Trump will surprise us all and insist on some kind of replacement that somehow preserves much of Obamacare's coverage expansion. And a kick-the-can-down-the-road scenario which keeps deferring the harshest fallout from repeal is also a possibility.
About those jobs:
After campaigning as a champion of coal miners, Donald Trump is reportedly close to choosing for commerce secretary a New York billionaire who owned a West Virginia mine where a dozen miners were killed in 2006. Trump's favored candidate, Wilbur Ross, also engineered buyouts that cost workers their benefits and their jobs. It's a striking choice, considering Trump's promises to improve the lives of coal miners and other working-class Americans.

Ross made his money collecting "distressed assets"—failing steel and textile mills in the Midwest and South, and coal mines in Appalachia. Dubbed the "the King of Bankruptcy," Ross cut jobs, wages, pensions, and health benefits at the companies he acquired, and reaped the profits. In the early 2000s, Ross's foray into the steel industry netted him a $267 million personal windfall, but stripped health-care benefits from more than 150,000 retired steelworkers. Then he moved on to the coal industry, at one point controlling as much as $1.2 billion in coal assets through his company, the International Coal Group.
I'm sure he has miners best interests at heart. Oh, about those miners:
Again and again, President-elect Donald Trump presented himself as the coal miners' candidate. During the campaign, he promised to bring coal back into the economy, and jobs back into struggling Appalachian towns.

But now some in coal country are worried that instead of helping, Trump's first actions will deprive miners — and their widows and children — of the compensation they can receive if they are disabled by respiratory problems linked to breathing coal mine dust.

That's because buried in the Affordable Care Act are three sentences that made it much easier to access these benefits. If Trump repeals Obamacare — as he vowed to do before the election — and does not keep that section on the books, the miners will be back to where they were in 2009, when it was exceedingly difficult to be awarded compensation for "black lung" disease.
And just how many people fucked themselves? Kthug runs the numbers:
As Greg Sargent points out, the choice of Tom Price for HHS probably means the death of Obamacare. Never mind the supposed replacement; it will be a bust. So here's the question: how many people just shot themselves in the face?
My first pass answer is, between 3.5 and 4 million. But someone who's better at trawling through Census data can no doubt do better.

Here's my calculation: we start with the Census-measured decline in uninsurance among non-Hispanic whites, which was 6 million between 2013 and 2015. Essentially all of those gains will be lost if Price gets his way.

How many of those white insurance-losers voted for Trump? Whites in general gave him 57 percent of their votes. Whites without a college degree — much more likely to have been uninsured pre-Obama — gave him 66 percent. Apportioning the insurance-losers using these numbers gives us 3.42 million if we use the overall vote share, or 3.96 million if we use the non-college vote share.

There are various ways this calculation could be off, in either direction. Also, maybe we should add a million Latinos who, if we believe the exit polls, also voted to lose coverage. But it's likely to be in the ballpark. And it's pretty awesome.
Just give dad some robitussin and a Make America Great Again hat, you stupid, stupid people. I mean I feel horrible, but they voted for it. Not just for Trump. All of Appalachia is red, red, red and they've been voting this way for a while. There are no Democrats save Joe Manchin left to blame.
And they are still coming for you social security, you stupid bastards.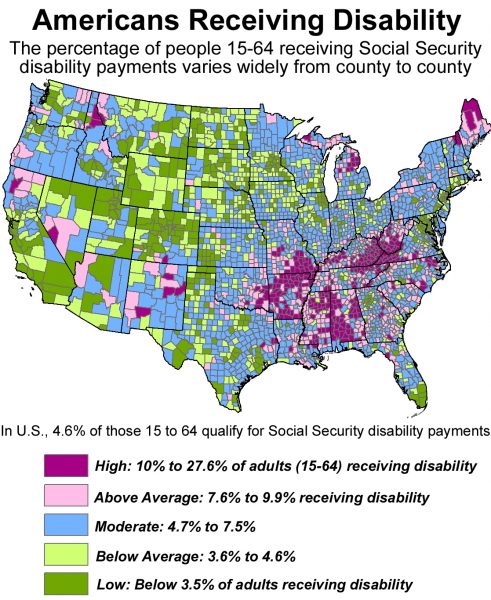 1. West Virginia
> Pct. of working age population with benefits: 9.0%
> Pct. with recurring neck and back pain: 39.0% (the highest)
> 2011 labor force participation rate: 54.1% (the lowest)
> 2011 unemployment rate: 7.8% (23rd lowest)

No state had a higher percentage of working age people receiving SSDI benefits than West Virginia. In addition, the benefits received from by the federal government were more generous compared to most states. The average monthly benefit of more than $1,140 in 2011 was the 10th highest of all states. Almost 21% of recipients received monthly benefits of at least $1,600, a higher percentage than all but three states. Like most states on this list, West Virginia is among the less-educated states in the country. Just 18.5% of the adult population had a bachelor's degree, the lowest percentage of all states. Also, few residents in the state had jobs. Just 54.1% of residents were considered part of the labor force in 2011, by far the lowest percentage of any state in the nation.
And those who aren't on disability are just plain elderly and receiving social security benefits: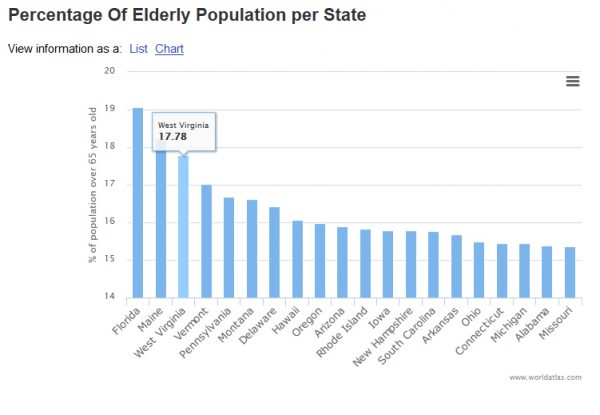 On top of all of this, some lady had some idea about revitalizing the region:
Hillary Clinton is committed to meeting the climate change challenge as President and making the United States a clean energy superpower. At the same time, she will not allow coal communities to be left behind—or left out of our economic future. That's why Clinton announced a $30 billion plan to ensure that coal miners and their families get the benefits they've earned and respect they deserve, to invest in economic diversification and job creation, and to make coal communities an engine of US economic growth in the 21st century as they have been for generations.
She also had some thoughts about social security and medicare you can read about here:
We can never let Republicans cut or privatize Social Security—we should protect and expand it. Thanks, @POTUS. https://t.co/eIXIQsm8Pt

— Hillary Clinton (@HillaryClinton) June 3, 2016
Defend Social Security against Republican attacks. Republicans are using scare tactics about the future and effectiveness of Social Security to push through policies that would jeopardize it. The real threat is Republican attempts to undermine the bedrock of the system. Hillary believes that Social Security must remain what it has always been: a rock-solid benefit that seniors can always count on—not subject to the budget whims of Congress or to the fluctuations of the stock market. She fought Republican efforts to undermine Social Security when she was a senator and throughout her career, and she will fight them as president.

As president, Hillary will:

Fight Republican attempts to repeal the Affordable Care Act. The Affordable Care Act made preventive care available and affordable for an estimated 39 million people with Medicare and saved more than 9 million people with Medicare thousands of dollars in prescription drug expenses. Read more here.

Fight back against Republican plans to privatize or "phase out" Medicare as we know it. Republicans have called for privatizing or even "phasing out" Medicare and shifting millions more seniors into private plans that would dramatically raise costs. Hillary will stand against these attempts to weaken the program. Read more here.
You stupid, stupid, stupid people. And there honestly is no real way to stop this. You've given them majority rule over EVERYTHING. All Democrats can do is scream. I don't know if there is even any real point to calling Manchin. He won't get in the way of any nominees https://www.washingtonpost.com/blogs/plum-line/wp/2016/11/29/obamacare-is-probably-toast-and-a-lot-of-poor-white-trump-voters-will-get-hurt/?utm_term=.cba0274e91fe. Hell, he'll probably vote to confirm Sessions and Price, then they will gut medicare, and the WV voters in their infinite wisdom will vote for his Republican opponent in 2018 because they will punish incumbents because they are angry and we'll have a completely red delegation who will just give them more of the same. It's sad and hysterical at the same time.
You can lead a horse to water but you can't keep them from pissing in it and then drowning themselves in the urine.