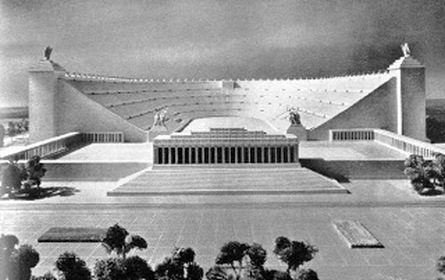 Trumpolini will begin his victory tour of the swing states this week, starting in Cincinnati, Ohio on Thursday. This isn't a normal thing; presidents-elect are usually too busy preparing to take on leadership of one of the largest organizations in the world to bother with staging mass circle-jerks with supporters.
But perhaps the Ein Volk, Ein Reich, Ein Führer Tour presents an opportunity to show that we're not all Good Germans. I'm not in Ohio, but if I were, I'd be combing through social media right now to find and/or start discussions about staging demonstrations to counter the fascist-scented adulation event.
And when the shit-gibbon takes his Hair Furor act to Florida, I will be there — regardless of where it is in the state. For the moment, we're still living in a country where the president understands and respects the First Amendment.
Why bother? Well, Trump is a narcissist who thrives on adulation. But his ego is brittle enough that he is driven to tell embarrassing lies about facts that contradict his self-image, such as his massive popular vote loss and the spontaneous demonstrations that broke out nationwide when he won the Electoral College. It gets under his skin.
Trump's takeaway from the RNC was that he is "very well-liked." Well, he's not; Trump will in fact be inaugurated as the most unpopular president-elect in the history of polling, who lost the popular vote by the widest margin ever. He should be reminded frequently that we don't all love him, via news reports of peaceful demonstrations, if necessary. No honeymoon for you, you nasty old goat.
I'm sure opinions vary around here on the utility of protests. I think they have their place, and coming out in force to express opposition to a tin-horn fascist wannabe who's trying to stage a self-love fest on my turf sounds like a good idea to me. What say you?
PS: Opposing Manhattan Mussolini and shoring up democratic institutions will require the ability to multitask. You can call your senators while you're waiting for the demonstration to start.