My poor kiddo has a cold and allergies that have left her with a sore throat. She came over for dinner and requested mac-and-cheese (creamy rather than baked) and a Boston cream pie for dessert.
These are both somewhat labor intensive dishes, but what the hell — anything for the kid. Here's what the Boston cream pie looked like before it was hacked up and eaten: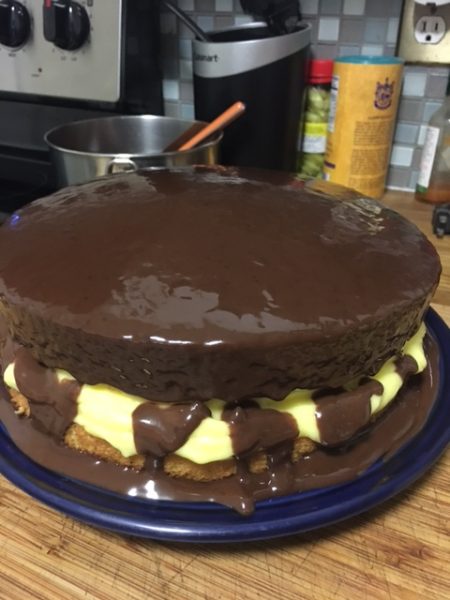 I think I overdid it on the ganache a bit, but then again, maybe too much chocolate simply isn't possible. I used the same recipe I've used for years from a Better Homes and Gardens Junior Cook Book that I acquired at a yard sale as a teen. I believe the ganache is usually thicker, but maybe it's the humidity.
After dinner, we watched a terrible movie about an alien abduction on Netflix. I don't remember the name, but it was set in the 1970s and featured James Garner as an irascible detective. It's allegedly based on a true story. The entire population of the small town depicted in the movie appeared badly in need of anger management classes — even the moms, nurses and waitresses were snarly.
Anyhoo, open thread!