Just a quick update for the "who has Trump f**ked today" file.
AT&T is reportedly feeling confident about its ability to buy Time Warner after meeting with President-elect Donald Trump's transition team—even though Trump himself vowed to block the merger during his campaign.

"Donald Trump's transition team has reassured AT&T that its $85.4 billion acquisition of Time Warner will be scrutinized without prejudice," the Financial Timesreported yesterday. "After talking with the president-elect's team, AT&T executives are confident that their deal has a good chance of passing regulatory scrutiny, people informed about the conversation said." [Ars Technica]
This is a couple of days old, actually. It's tough to keep up.
To be sure, relative to little things like blowing up the world's system of states, agreements, and understandings…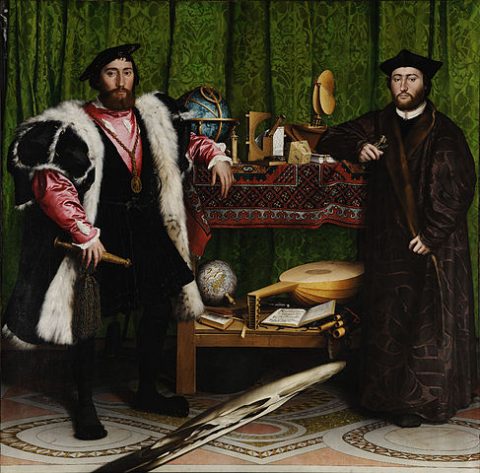 …letting a mega-corp misbehave exactly as any Republican president would (and some Democrats, alas) is hardly the top of either my terror or rage list.  But still, I do love seeing Trumpkins slowly wake up to the degree to which they've been conned/are complicit in the ongoing shit show.
Sorry, folks.  You really do need watering twice a day if you trusted the cheeto-faced, ferret-heedit shitgibbon.
That's about the limit of the fun to be had these days — a respectful nod in the direction of the late, great Molly Ivins.  I wish I could enjoy the tears of betrayed Trumpkins a bit more, but there's too much damage they've done to the rest of us to take much satisfaction.
Image: Hans Holbein the Younger, The Ambassadors, 1533.