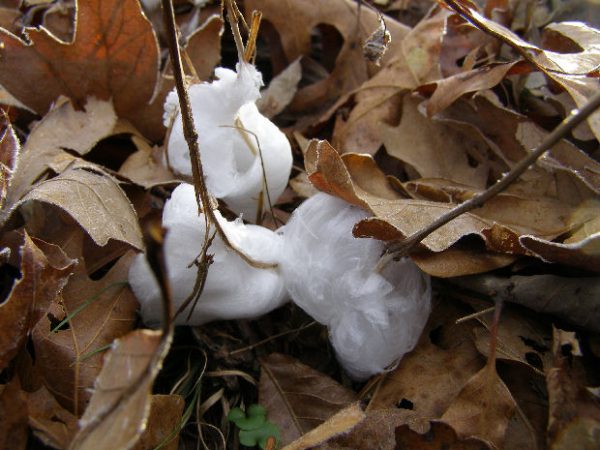 .
From gifted garden photographer and commentor Ozark Hillbilly:
Walked out of my house yestermorn and found myself standing in a field of flowers that had bloomed during the 24 degree night temps. They were soon gone with the touch of the suns first rays. For those who don't know, these are called "frost flowers". From Wikipedia:

"The formation of frost flowers is dependent on a freezing weather condition occurring when the ground is not already frozen. The sap in the stem of the plants will expand (water expands when frozen), causing long, thin cracks to form along the length of the stem. Water is then drawn through these cracks via capillary action and freezes upon contact with the air. As more water is drawn through the cracks it pushes the thin ice layers further from the stem, causing a thin "petal" to form.

"The petals of frost flowers are very delicate and will break when touched. They usually melt or sublimate when exposed to sunlight and are usually visible in the early morning or in shaded areas."

This is a phenomenon that, as far as I know, occurs only once a year, if at all. The process that forms them seems to destroy the physical structures necessary. I could be wrong. I have seen much more extravagant frost flowers but these are what grew Friday morning.
Thanks, OH! Beauty, however evanescent, strengthens our souls.
What's going on — if only planning for next spring — in your garden(s) this week?
.