A lady wearing a hijab was in front of me in line at the grocery store yesterday, unloading her cart with the help of her two tween girls. While waiting my turn, I scanned the racks of magazines, puzzle books, comics and scandal sheets and saw this: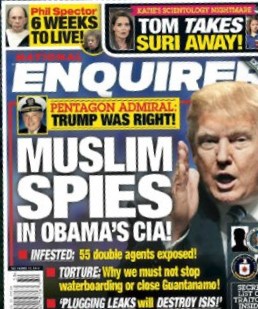 It occurred to me that we're entering the Tabloid Era. Trump himself or one of his associates could very well be the source for that story. Some of Trump's minions have advanced the theory that the Muslim Brotherhood has infiltrated the US government and that Huma Abedin was an agent of the Brotherhood somehow.
If I recall correctly, the shitgibbon cited the National Enquirer as a credible news source at some point during the campaign. The Enquirer's publisher, the aptly named David Pecker, claims Trump as a friend and supposedly axed stories that might have reflected negatively on the shitgibbon, while publishing lurid tales claiming that Hillary Clinton was on death's doorstep throughout the campaign.
Oh well, I was thinking, standing in that line. We're a cheap, tacky joke of a country now, mirroring the character of our soon-to-be leader, so why not make the National Enquirer the "paper of record"? It's not like The New York Times has been using that role to any good purpose anyway.
But my heart ached for the mother and two daughters who unloaded their cart while I waited in line behind them. I was hoping maybe they wouldn't see the headline. But of course, they see it more clearly than I do. Every single day.