HR2300 is the incoming Secretary of Health and Human Services, Rep. Price (R-GA), PPACA replacement bill. It does lots of things. One of those things is it replaces income based subsidies with age based subsidies.
Sec. 101. Refundable Tax Credit for Health Insurance Coverage
Provides for refundable, age adjusted tax credits with amounts tied to average insurance on individual
market adjusted for inflation.1
o $1,200 for those between 18 to 35 years of age
o $2,100 for those between 35 and 50 years of age
o $3,000 for those who are 50 years and older
o $900 per child up to age 18
Besides being grossly inadequate in size, there is another problem with these subsidies. These subsidies will have massive geographic disparities. Individuals who live in low cost medical markets with large and healthy risk pools will see their subsidy cover a far higher percentage of their premium costs for a given actuarial value. Individuals who live in high cost medical markets will pay a lot more out of pocket for their premiums. Below is a map of every county on Healthcare.gov excluding Alaska. The pricing is the least expensive Silver plan with no subsidies for a forty year non-smoker. The range is significant. The least expensive Silver in the data set is thirteen counties in Texas at $199.28 per month. The most expensive non-Alaska coverage is three counties in Arizona at $754.74.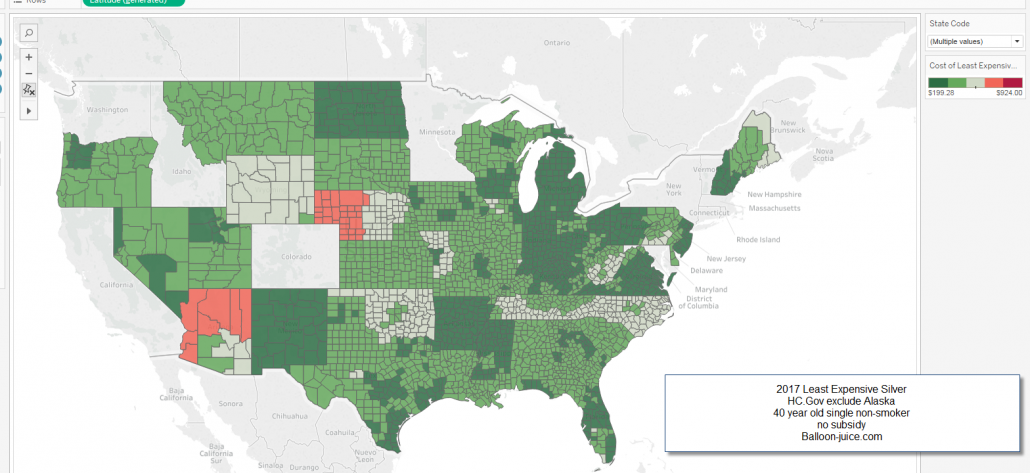 The subsidy in the price plan will let the Texas 40 year olds buy 70% AV coverage for less than $20 a month out of pocket. Given quite a few other moving parts in HR0-2300 I can't get a firm estimate but this is a good ballpark estimate. However the subsidy for the three Arizona counties for a forty year old would be sufficient to buy 25% AV coverage and the individual is paying $500 out of pocket every month.
We've talked about county level inequities within PPACA through Silver Gapping and Silver Hacking
More importantly, people in Perry County who are getting subsidized will see the ACA working really well. They have good, cheap health insurance. However their cousins across the state are getting a raw deal compared to the great deal that they get in Perry County. This is especially true as we move up the income scale which means moving up the likely voter scale and influence scale.
The people in the cheap Texas counties will see the Price plan as a great deal, especially higher up the income scale as the current subsidies fade out and then fall off a cliff. The people who make under 400% FPL in Arizona will be getting a raw deal.