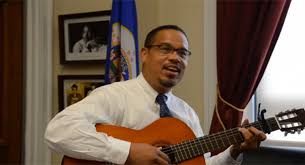 Today, Rep. Keith Ellison removed one of the barriers to his bid to become DNC chair: He said he'd step down as congressman if elected:
WASHINGTON – U.S. Rep. Keith Ellison will vacate his congressional seat if he wins the chairman job at the Democratic National Committee, he told the Star Tribune Wednesday morning.

Ellison conceded Wednesday that a full-time chair is what the party wanted after the losses of the 2016 presidential and congressional elections. He said he came to the decision after difficult soul-searching and hearing from the more than 400 voting members of the DNC who said they wouldn't vote him as long as he was a sitting member of Congress.
I haven't paid much attention to the DNC chair race since at times it seems akin to polishing the mooring line eyelets for the approaching Hindenburg. But assuming Trump isn't wholly successful in establishing an authoritarian kleptocracy and using his new powers to smear opponents and suppress a sufficient number of voters to eliminate the possibility of electoral gains over the next year or so, we'll need a man or woman with a plan for 2018 and beyond.
The little I've heard from Ellison since the Trumpocalypse, I've liked. He was a Bernie guy in the primary but a surrogate for Clinton in the general. He was one of the first Democrats who recognized that Trump could win — I seem to remember a CNN panel laughing in his face at the suggestion — but Ellison was right when many Democrats, including me, were wrong.
But crucially, IMO, Ellison doesn't buy the theory that the Democrats need throw nonwhites, women, religious minorities and LGBT folks under the bus and shift focus to the white working class to win. He points out that, as a black man and a Muslim, he wins in a majority white district because he knows how to build bridges while upholding the party's core principles.
The ADL called some of Ellison's statements on Israel "disturbing and disqualifying." Ellison has also come under fire for his work organizing the Million Man March, in which he defended Louis Farrakhan in writing. In a recent essay, Ellison admits this was a mistake.
I understand the objections, but I'm inclined to give Ellison the benefit of the doubt; I think he's earned it through his consistently good work as a congressman and high profile Democrat. What do y'all think?