I'm way deep in a big project, and rather significantly behind on it too, so my blogging for the next few months is going to be quick-hit stuff rather than anything thought through.  I'll try to make up for that by making it as regular a practice as I can to toss good reads your way.
Todays comes from Masha Gessen, someone y'all know I greatly admire.  About a week ago she posted a piece on The New York Review of Books site.  In it, she asks if the realist stance in politics can function in the context of Trump.  To find out, she looks to her own family history — including choices she made — to answer no.  She takes no prisoners:
In Bialystok ghetto, my great-grandfather's responsibility in the Judenrat was to ensure that the ghetto was supplied with food. He ran the trucks that brought food in and took garbage out, he ran the canteen and supervised the community gardens that a group of young socialists planted. He also discouraged the young socialists from trying to organize a resistance movement: it would be of no use and would only jeopardize the ghetto's inhabitants. It took him almost two years to change his mind about the resistance efforts, as he slowly lost hope that the Judenrat, by generally following the rules and keeping the ghetto inhabitants in line, would be able to save at least some of them.

As in other ghettos, the Judenrat was ultimately given the task of compiling the lists of Jews to be "liquidated." The Bialystok Judenrat accepted the job, and there is every indication that my great-grandfather took part in the process. The arguments in defense of producing the list, in Bialystok and elsewhere, were pragmatic: the killing was going to occur anyway; by cooperating, the Judenrat could try to reduce the number of people the Nazis were planning to kill (in Bialystok, this worked, though in the end the ghetto, like all other ghettos, was "liquidated"); by compiling the lists, the Judenrat could prevent random killing, instead choosing to sacrifice those who were already near death from disease or starvation. These were strong arguments. There is always a strong argument.

But what if the Jews had refused to cooperate?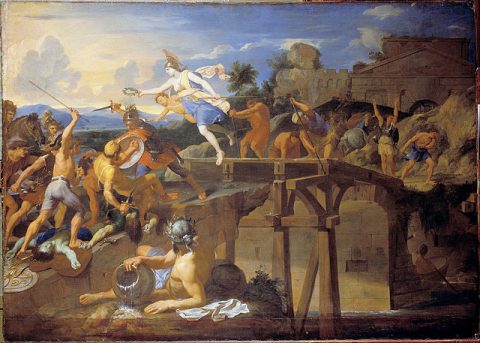 Was Arendt right that fewer people might have died? Was Trunk right that Judenrat activities had no effect on the final outcome? Or would mass murder of Jews have occurred earlier if Jews had refused to manage their own existence in the ghetto? We cannot know for certain, any more than we can know now whether a scorched-earth strategy or the strategy of compromise would more effectively mitigate Trumpism. But that does not mean that a choice—the right choice—is impossible. It only means that we are asking the wrong question.
The right question…or better, the right stance, the right scale on which to weigh any choice of action?
We cannot know what political strategy, if any, can be effective in containing, rather than abetting, the threat that a Trump administration now poses to some of our most fundamental democratic principles. But we can know what is right. What separates Americans in 2016 from Europeans in the 1940s and 1950s is a little bit of historical time but a whole lot of historical knowledge….

Armed with that knowledge, or burdened with that legacy, we have a slight chance of making better choices. As Trump torpedoes into the presidency, we need to shift from realist to moral reasoning. That would mean, at minimum, thinking about the right thing to do, now and in the imaginable future. It is also a good idea to have a trusted friend capable of reminding you when you are about to lose your sense of right and wrong.
I'm convinced Gessen is correct.  More, I believe her demand that we make the moral choice first, and then pursue whatever particular tactic seems most likely to embody that choice, will be the most effective, as well as the right thing to do.  A Democratic response to Trump that says we can make this work a little better enshrines Trumpism, and all the vicious GOP assumptions as the ground on which such matters get decided.  One that says "No. This is wrong.  Democrats will oppose, not mitigate…" is the one that creates a real choice going forward on the ground on which we want to fight.
Image: Charles Le Brun, Horatius Cocles Defending the Bridge, c. 1642/3 (I know it's not dead on point, but it's close, and I always loved the story, so there.)