For the past few weeks, Thurston and Rosie have been dragging the blankets and the quilts off of furniture, pulling them to the floor, and creating dog beds for themselves to sleep on. Now, mind you, over the past few years I have purchased at least half dozen god damned dog beds, AND THEY NEVER EVER USE THEM. EVER.
So last week on digital Monday or whatever, I found a big dog bed on sale for dirt cheap, and I ordered it. It came, it was big enough for all three dogs and cat to sleep on, and I promptly put it on the floor where they had been pulling the blankets. Within fifteen minutes, Thurston and Rosie began what can only be described as a vicious gangland turf war over the pet bed. There was barking, growling, howling and all hell broke loose to the point that I had to put the damned bed up and I ordered a second one so they wouldn't have anything to fight over.
Again, I must state for the record, THEY HAVE NEVER USED ANY FUCKING DOG BED I HAVE EVER PURCHASED BEFORE.
Today, I took a nap because my sinuses are killing me and it feels like my eyes are about to shoot out of my face, and I woke to the sound of another scrum between Rosie and Thurston. I walked into the living room and this is what I found.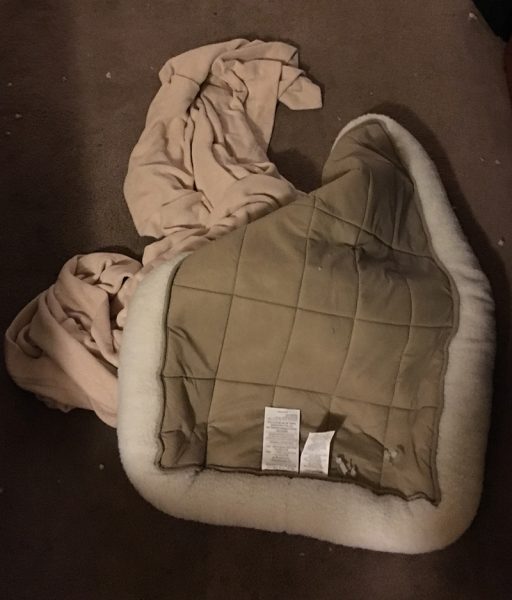 That is the dog bed that one of them had somehow pulled down from the table, placed on top of a blanket one of them had pulled down from the couch, and it is decorated with care with the stuffing from a pillow they shredded during their melee.
Assholes.