The non-revelation that Vladimir Putin actively tried to select the next US President — and succeeded — has been pretty well covered by now.  I just want to add one question that's been bugging me all day:
What did the Trump campaign do, and when did they do it?
We do know a few things.  Michael Flynn was both a national security advisor to the Trump campaign and has ties to the Russian propaganda apparatus.  Former Trump campaign head Paul Manafort has worked for Russia and allied states, and has a rich, long-held trove of contacts with the state apparatus there.  Donald Trump himself famously asked Putin to hack Hillary's emails.  I'm sure if we had the same access to Trump's, his campaign's and the RNC's communications that we had to Hillary's and her team's, we could well have some very interesting reading.
Short of that, it seems a basic question to ask of the Trump circle.  Did any of them conspire with a foreign power to manipulate (steal) the election?
The fundamental crisis we face, of course, is that a foreign power fucked with our election, which ended in the result sought by an adversary.  But while that's the obvious disaster,  it gets worse if the Russians had active co-conspirators within the Trump camp.  That moves them from illegitimate, to traitors.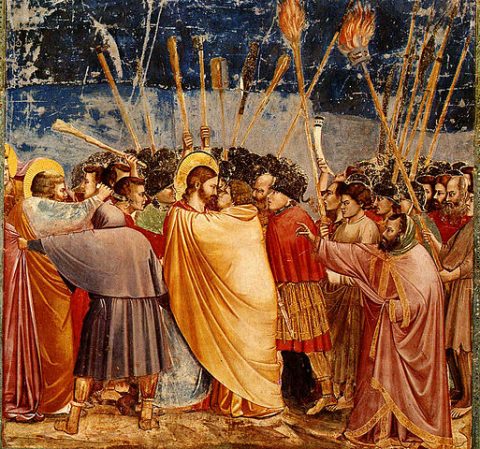 That may seem a stretch — but given the extremely well documented Russian connections that obtained in the Trump campaign through the crucial months of the general election, it's seems to me that it's imperative we get real answers as to who did what to whom over here.  This is where I hope Marty Barron has his people working (I've given up on Dean Baquet).  And I hope there are folks at the CIA pissed off enough to help out.
Whoever does it, this really is a time that puts the idea of the elite press to the test.  Either they cover Trump and all his high crimes and misdemeanors, or they give up, and the American experiment lurches to its increasingly imminent collapse.
I live not in expectation, but in hope.*
*Hope is the thing with feathers. The one Dick Cheney kept trying to shoot out of the sky.
Image: Giotto, The Arrest of Christ (Kiss of Judas), betw. 1306 and 1308.