We all saw that the President-elect went after the F-35 program this morning. We now know, thanks to Kurt Eichenwald, that what appears to have set him off was a CNN piece yesterday about the program and its price tag.
Wall Street guy: Found what led Trump to F-35. CNN mentioned cost yesterday.They now monitor TV all day 2 short stock Trump might tweet bout

— Kurt Eichenwald (@kurteichenwald) December 12, 2016
Regardless of whether the F-35 program is a good idea, or if its anything other than a trillion dollar weaponized Keynesian jobs program, the Defense acquisition process is not for the faint of heart. Here's the Defense acquisition portal. Here's the Introduction to Defense Acquisition. And here's what it looks like as a flow chart: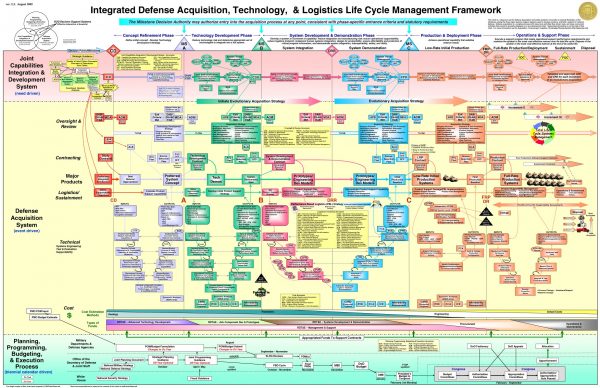 The process is detailed and complex. It is covered in Defense Management at the Senior Leader Colleges (the war colleges) and there is a stand alone school just for Defense acquisitions: Defense Acquisitions University, which is attended by acquisitions officers/professionals. I sat through, barring other duties or being on Temporary Duty, four years of my teammate teaching Defense Management. Its dry, its tedious, its very, very, very important! I don't remember any lesson materials dealing with tweeting!