If he lives another thousand years and keeps using that time to oppose the fascist kleptocrat who hijacked his party of reckless neocons, bible-humpers and plutocracy minions, David Frum might yet work off a fraction of the karmic debt he acquired in the run-up to the Iraq War:
Curious how many of those who identified with John Milius' "Wolverines" back in 1984 now do media work for the occupying force pic.twitter.com/mm9nqpnuMS

— David Frum (@davidfrum) December 14, 2016
For those of you who are not fellow old farts, Frum is referring to "Red Dawn," a Reagan-era film that depicted brave American patriots taking on Soviet invaders. And Frum is right — the same people who envisioned themselves picking off Russians with pa's squirrel rifle in 1984 are filled with admiration for Putin's steely man-boobs today.
It's not just the Republicans with a media platform either. Check out this remarkable turnaround in Putin's poll numbers among a certain subset of our population: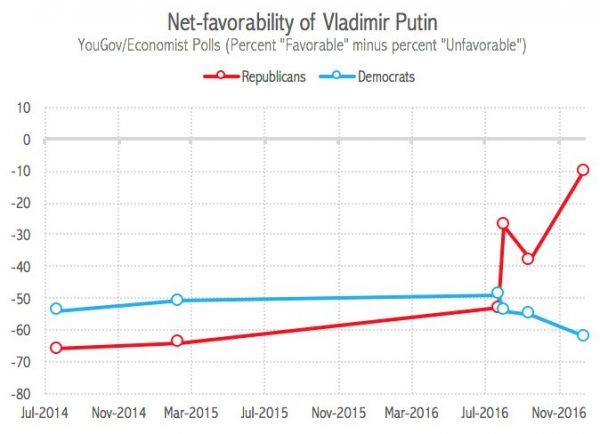 Of course, we suspected Republicans of being nascent fascist lackeys all along. Still, the stampede to the docks to welcome the conqueror with vodka and caviar is remarkable.
Open thread, comrades!