Here's a pair of lazy-ass boxers basking in the sun next to the potting shed: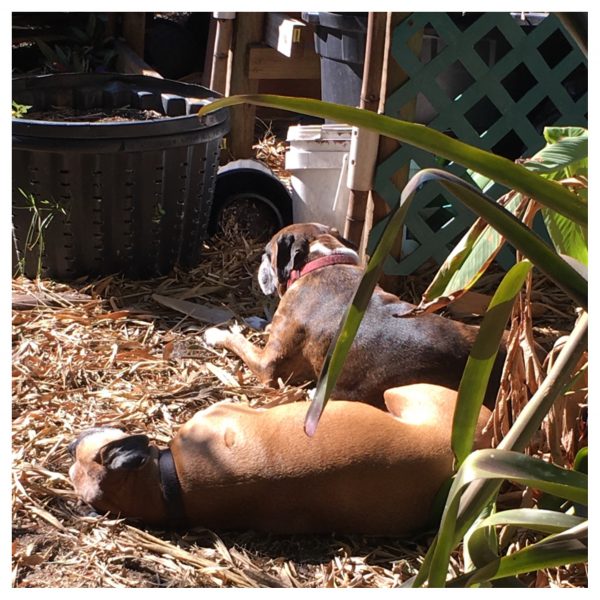 They're tuckered out from chasing a feral cat through the yard. Luckily, it was able to exit the property by scaling a six-foot wooden fence. I saw what was happening through the window in time to call the dogs off, but the cat would have likely escaped anyway, and I'm not sure what the dogs would have done if they'd caught it. Probably get clawed and run away.
I've mentioned before that we have an irresponsible ass of a neighbor who feeds feral cats. I'm sympathetic to people who feed feral cats (although I wouldn't want to live near them) IF they take responsibility for the cats they attract by trapping them and taking them to the vet to be spayed/neutered and checked for disease before releasing them back into the neighborhood.
The aforementioned irresponsible ass doesn't do that, so the neighborhood is overrun with an ever-increasing population of feral cats who are regularly run over by cars when they're not pissing in people's carports, killing songbirds and spraying their stink all over the place. My dogs are too old, fat and tame to menace the cats, but I'm betting that's not the case with other neighborhood dogs.
Anyhoo, it makes me sad and angry, but there's nothing I can do about it.
Here's something for the weird coincidences file: Today is Wednesday, aka, "Make Your Own Goddamn Dinner Night." The mister and I were discussing delivery options, which are severely limited in our little town.
I remembered that some time ago, we'd ordered a pizza from a local chain that frequently disappointed us, and after I called to complain about receiving a burnt pizza that arrived an hour late the last time we ordered, they extended a store credit.
But the mister observed that it had been so long, the store management had probably changed, and the new manager would be unlikely to honor the credit. I said I had a picture on the phone that I'd taken to display to the manager who sent us the burnt pie: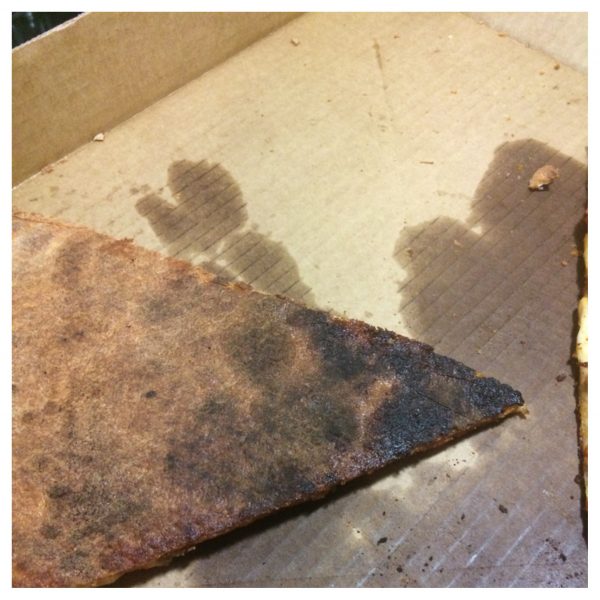 I could maybe use it as (not wholly convincing) evidence to bolster my claim to a free pizza, but the weird coincidence was the date stamp on the photo: December 14, 2014. What are the chances?
Also, the grease stain somewhat resembles Elmer Fudd, with Donald Trump's hair. Reaching out to grab something — maybe a pussy.
Anyhoo. Open thread!