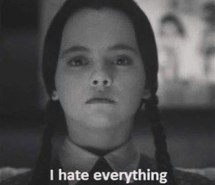 Woke up in a foul mood, discovered that Thurston had stolen one of my slippers, so I had to walk around with one slipper on looking for the damned thing for twenty minutes before discovering it was outside. I also didn't tie my pajama bottoms because I had been planning on just walking to the bathroom and showering, so they slid down while I was bending over to find the god damned slipper and blew the seam in the ass of my pj's out. Then I did the accounting for the house (I have every receipt) and quietly wept to myself and thought about when I used to have money. Then the day started to go downhill.
In my infinite wisdom, I then thrust myself into public, nearly intentionally rear ending some jackass who kept braking out of turns on the entire drive to the city. Can't these people feel their car and the road and realize that they are doing it wrong? Went to Lowes to buy a new toilet and was almost hit head on by some woman with mad 80's hair in an SUV carelessly pulling through a parking space as I was pulling in to park, and then yelled at an old lady and her husband who had a Christmas tree in their trunk for nearly running me over in a pedestrian zone outside the store. It should be illegal to sell a car to someone who can not see over the fucking steering wheel.
Once inside, I was informed by the sales person that was helping me that the toilet I was considering and eventually bought (American Standard Champion) could flush 16 golf balls, which made me wonder how many people out there are shitting golf balls that this is considered a helpful metric for people shopping for a new commode. I asked him "What about lacrosse balls," but he had no ready answer, but I bought it anyway.
I then drove to the mattress store to check out king sized mattresses, and it is a good thing I was lying down when he told me the price of the one I liked. I may be staying in the spare bedroom in the new house(where my current bed is going to go) until this summer when I can maybe afford a new mattress. Everything is so god damned expensive.
Had to go to the AT&T store to replace a car charger for my phone that they sold me for $30 bucks that doesn't work after two weeks. I explained the situation, and he told me "Oh yeah, those tend to wear out really quick." That was approximately when I realized that people who think I swear too much would probably be horrified and work to have me institutionalized if they ever hear my inner monologue when I am in public, but I exercised some restraint and only sarcastically stated "That might be the kind of information that customers might find useful before purchasing an item."
I am now safely home, no longer out spreading my particular brand of holiday cheer on an unsuspecting America, and the fracking trucks only made one halfhearted attempt to run me off the road on the way home.
Also, Steve is out wilding and I have not seen him since about 2 am last night when he jumped on my chest, so I am worried about him.
How was your fucking day?