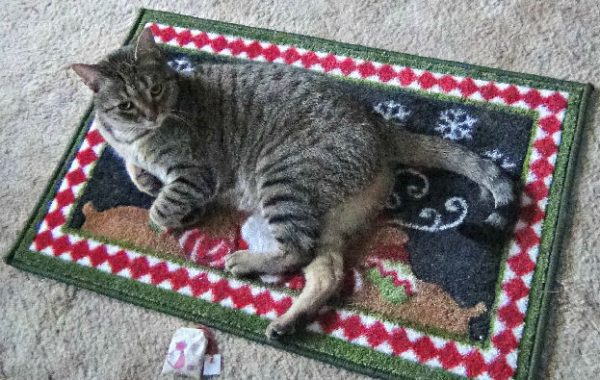 Getting into the holiday spirit, without the indignity of wearing a party hat. From cat whisperer WereBear:
Per your request, here is Tristan, enjoying our Holiday Rug, an annual tradition.

I get a cheap holiday themed rug every year, lay it in an open space, and it becomes a cave, a mountain, and a wrestling ring — the virtual boundaries draw the cats like a magnet.

(Click here for full explanation, on WereBear's Way of Cats blog.)
***********
Also, a(nother) great piece from Ta-Nehesi Coates, in the Atlantic — "My President Was Black":
… Last spring, I went to the White House to meet the president for lunch. I arrived slightly early and sat in the waiting area. I was introduced to a deaf woman who worked as the president's receptionist, a black woman who worked in the press office, a Muslim woman in a head scarf who worked on the National Security Council, and an Iranian American woman who worked as a personal aide to the president. This receiving party represented a healthy cross section of the people Donald Trump had been mocking, and would continue to spend his campaign mocking. At the time, the president seemed untroubled by Trump. When I told Obama that I thought Trump's candidacy was an explicit reaction to the fact of a black president, he said he could see that, but then enumerated other explanations. When assessing Trump's chances, he was direct: He couldn't win.

This assessment was born out of the president's innate optimism and unwavering faith in the ultimate wisdom of the American people—the same traits that had propelled his unlikely five-year ascent from Illinois state senator to U.S. senator to leader of the free world…

… I came to regard Obama as a skilled politician, a deeply moral human being, and one of the greatest presidents in American history. He was phenomenal—the most agile interpreter and navigator of the color line I had ever seen. He had an ability to emote a deep and sincere connection to the hearts of black people, while never doubting the hearts of white people. This was the core of his 2004 keynote, and it marked his historic race speech during the 2008 campaign at Philadelphia's National Constitution Center—and blinded him to the appeal of Trump. ("As a general proposition, it's hard to run for president by telling people how terrible things are," Obama once said to me.)

But if the president's inability to cement his legacy in the form of Hillary Clinton proved the limits of his optimism, it also revealed the exceptional nature of his presidential victories. For eight years Barack Obama walked on ice and never fell. Nothing in that time suggested that straight talk on the facts of racism in American life would have given him surer footing…
It's a long read, but even if you don't have time for it now, I wanted to make sure you could bookmark it for later — given the pace of new outrages news right now.
***********
Apart from that, what's on the agenda for the day?