Everyone say hi to Xubi!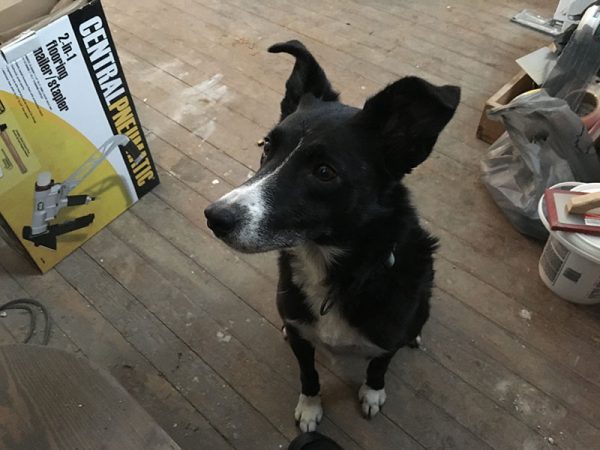 Xubi, which is short for her full name Exuberance, is my carpenter/handyman's border collie, and she's such an awesome dog I just thought I would write about her a bit. Every day when I go over to the new house, Xubi is there to greet me. She's another rescue- Dean found her half starved, and she adopted him, and they get along likes peas and carrots.
She's a bit of a mystery girl. She was trained, because Dean (her dad and BFF) is always finding new things she can do. She can sit, lie down, I discovered she will give you her paw, and if you stick your arm out with your elbow to your side, she will stand up and put her paws on your arm instead of jumping on you.
She likes balls, frisbees, treats, chew toys, long car rides, barking at cows, horses, and deer, and is generally a sweet girl. She's also a real trooper when it comes to home renovation, and will stay there all day long without complaint. Last week she went on a long ride with me and then I took her home and gave her a good bath, because a lady needs a good day at the spa after several weeks of rolling around in sawdust. She was very well behaved and likes having in between her toes cleaned.
She's a very good doggie, and I am sure would love you very much. In fact, let's call today Xubi appreciation day, because she deserves it!