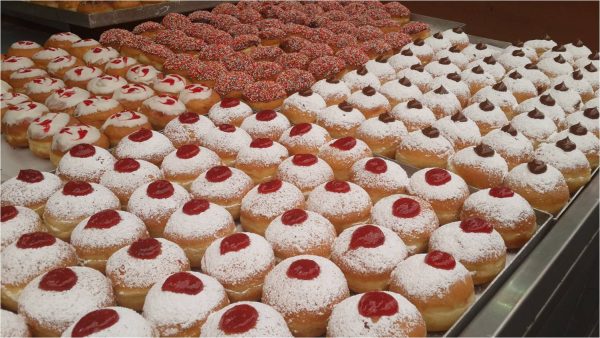 (Sufganiyot for sale in Israel)
A desperate plea has gone out for a recipe thread. Or a pet thread. I've decided not to combine them – not to look down on anyone's traditional/cultural culinary delights. And since I didn't bother to do any photo documentation of the meatballs and red sauce I made earlier today, I thought I'd share this NY Times recipe for sufganiyot (h/t: The Vicious Babushka at LGF – and today is, apparently, her birthday so all you folks that don't comment there, click across and wish her a happy birthday just because!). Sufganiyot are served in Israel as part of Hanukah celebrations as opposed to potato latkes (potato pancakes), which are the Hanukah treat of choice here in the US.
Here's the recipe:
Ingredients
¼ cup lukewarm milk or water
1 teaspoon dry yeast
3 tablespoons sugar
1 whole egg plus 1 egg yolk
3 tablespoons sour cream or vegetable oil
¼ teaspoon salt
¼ teaspoon vanilla extract
Freshly grated zest of 1/2 orange
1 ⅔ cups flour, more as needed
½ cup thick raspberry or strawberry jam (Adam baking comment: you can also use chocolate mousse, boston cream, pastry cream, or anything else you want inside your sufganiyot)
Vegetable oil for deep-frying
Confectioners' sugar for dusting
Nutritional Information

Nutritional analysis per serving (12 servings) 162 calories; 8 grams fat; 1 gram saturated fat; 0 grams trans fat; 5 grams monounsaturated fat; 1 gram polyunsaturated fat; 18 grams carbohydrates; 1 gram dietary fiber; 4 grams sugars; 2 grams protein; 29 milligrams cholesterol; 57 milligrams sodium
Note: The information shown is Edamam's estimate based on available ingredients and preparation. It should not be considered a substitute for a professional nutritionist's advice. Powered by Edamam
Preparation
Place milk or water in small bowl. Sprinkle yeast and 1 teaspoon sugar over milk. Set aside until frothy, about 10 minutes.
In a mixer fitted with paddle attachment, beat remaining sugar with egg and egg yolk. Add sour cream, salt, vanilla extract, orange zest and yeast mixture, and mix well. With mixer running, gradually add flour. Mix until dough is soft, smooth and elastic, adding flour if dough seems very sticky, 3 to 5 minutes. Do not add more than an additional 3 tablespoons flour; dough will be somewhat sticky, but will firm up in refrigerator. Place in an oiled bowl, cover, and refrigerate at least 4 hours or overnight.
On a floured surface, roll out dough to 1/2-inch thickness. Use a biscuit or a cookie cutter to cut out 2-inch rounds, placing them on a parchment-lined baking sheet. Reroll scraps and cut again. Let rise in a warm place 30 minutes.
In a heavy pot, heat 3 inches of oil to 365 degrees; when hot enough, a small piece of dough will brown on bottom in 30 seconds. If too hot, doughnuts will brown outside before cooking through. Working in batches, fry doughnuts until golden brown, turning once. Drain on paper towels and dust with sugar while still warm. Let oil come back to 365 degrees between batches.
If you have a pastry bag, fit with a small round tip and spoon jam into bag. When doughnuts are cool enough to handle, use tip of bag (or pointed tip of a serrated knife) to make a hole in bottom of doughnut. Squeeze or use a small spoon to nudge 1/2 teaspoon jam into hole. Repeat with remaining doughnuts and serve immediately. Dust again with powdered sugar.