Puling, bloated, splotchy, tiny-fingered, Cheeto-dusted baby-man is still lashing out about the campaign, 30 days before he's to be sworn in as POTUS: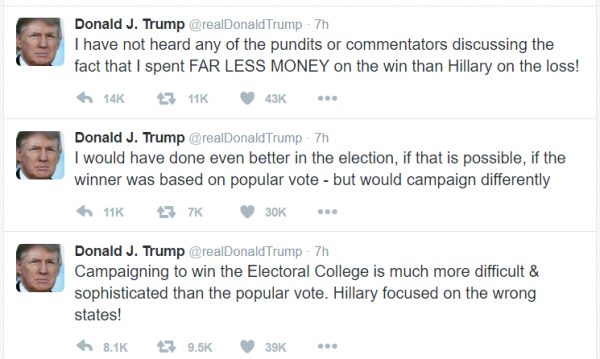 Sweet weeping Jeebus, has there ever been a bigger fucking crybaby in the history of this benighted planet? And he won, for fuck's sake! Can you imagine the ear-splitting snit if he'd lost? There wouldn't be a fleck of paint left on a structure across the entire island of Manhattan.
Speaking strictly for myself, Trump's periodic Twitter meltdowns provide some relief from the galloping sense of horror I feel at this insufferable, whiny-ass prick's ascension to the highest office in the land, because they demonstrate that he's not really enjoying his victory or even perceiving it as one.
A narcissist to the core with an ego as brittle as a spun-sugar Eiffel Tower, Trump has to puff himself up 24/7/365 to ward off the unbearable insecurity and feelings of worthlessness that underlie his condition. It's cold comfort, but the Siberian Candidate is suffering too, and his childish acting out on Twitter indicates his level of distress. Good.
Open thread.