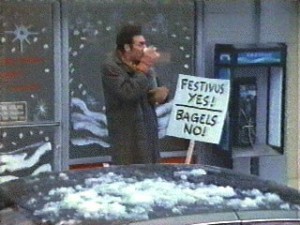 In 4016, religious scholars could be delivering sermons on the origins of Festivus and it would feel just as real to them as Christmas feels to Christians today. Plus, there will be video evidence.
I am exceptionally cranky today. The counters came, and of fucking course they were cut wrong, and they were supposed to deliver my sink today, which was ordered and paid for three months ago and was delivered to their storage unit TWO MONTHS AGO to hold for us until we are ready for it, so of course they waited until this morning to inspect it before delivery and OF FUCKING COURSE it is damaged and they have to order a new one which will be here on Tuesday which means sometime in the spring of 2017. I'm also tired of going places where I have spent thousands of dollars, see multiple people standing there, and when you try to discuss something they fuck up, they all scatter in different directions while trying to avoid making eye contact. I'm not yelling at them, ffs. I'm not waving around a gun. All I want to know is when can this be fixed.
Also, I am broke as fuck. I mean broke. I'm not poor, and I have plenty of food and my bills are paid, but I have NO money left. I'm super excited for Christmas because it means my carpenter/handyman will be taking a few days off and I won't have to sell plasma to pay him.
Why does nothing ever happen under budget? I mean, it has to have happened once somewhere, right?
*** Update ***
My new personal hero.