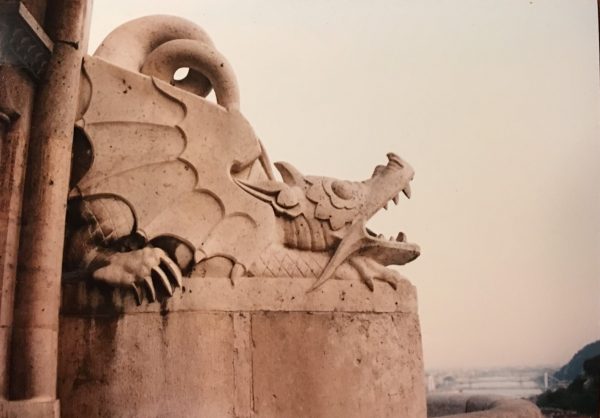 There's an interesting op-ed in the Washington Post today by Hungarian author and human rights advocate Miklos Haraszti. It's entitled, "I watched a populist leader rise in my country. That's why I'm genuinely worried for America." In the piece, Haraszti discusses the parallels between Trump and Viktor Orbán, president of Hungary and pal of Putin. This part struck me as true:
Call me a typical Hungarian pessimist, but I think hope can be damaging when dealing with populists. For instance, hoping that unprincipled populism is unable to govern. Hoping that Trumpism is self-deceiving, or self-revealing, or self-defeating. Hoping to find out if the president-elect will have a line or a core, or if he is driven by beliefs or by interests. Or there's the Kremlinology-type hope that Trump's party, swept to out-and-out power by his charms, could turn against him. Or hope extracted, oddly, from the very fact that he often disavows his previous commitments.
Those of us who watched Trump roll over every institutional barrier like a monster truck over speed bumps made of packing peanuts might well wonder what can stop the bastard. But Haraszti points out that would-be autocrats can be undone by their own greed:
I have plenty of gloomy don't-dos, but few proven trump cards. There is perhaps one mighty exception, the issue of corruption, which the polite American media like to describe as "conflicts of interest."

It is the public's moral indignation over nepotism that has proved to be the nemesis of illiberal regimes. Personal and family greed, cronyism, thievery combined with hypocrisy are in the genes of illiberal autocracy; and in many countries betrayed expectations of a selfless strongman have led to a civic awakening.
Of course, that requires media outlets to investigate and publicize the massive grift in which Trump, Inc. is now gearing up to engage. In the morning thread comments, Kay isn't optimistic about that. And she's right to note the general lack of MSM coverage of Trump's unprecedented and poorly understood conflicts of interests — it's worrying as hell to see so many media outlets treat this absurdity as the new normal.
But the WaPo was a bright spot during the campaign and may be again during the coming grift-binge. Just this morning, the paper published an editorial lauding Trump for shuttering his "foundation" (while recounting its dodgy nature) but pointing out that it is small potatoes in the scheme of things:
Mr. Trump now must tackle even bigger decisions. He has yet to detail how he will sever his ties with the business he built, but he should strive for a clean break, not only for propriety but also for his own credibility. If he hopes to be a productive leader, he will need all the political strength he can muster, and his capital could be badly sapped by questions about whether outsiders tried to buy influence through his family business. Mr. Trump long ago promised to make public his tax returns, as have other presidential candidates for years, but he has never done so.

It is hard to read Mr. Trump's compass on these issues. On one hand, he has been outspoken in demanding a break from business as usual, including close ties between policymaking, lobbying and federal contracting. He promises to "drain the swamp" in Washington. However, he seems less eager to act when it involves his own business and family. Before the inauguration, Mr. Trump should declare a zero-tolerance policy toward conflicts of interest and impropriety — especially his own.
The Post is allegedly hiring "dozens of reporters," perhaps sensing that they'll need reinforcements to cover the world-historical scam operation that will be the Trump administration. If all the new hires are in the mold of David Fahrenthold, Trump may, ironically, have a hand in making journalism great again. Here's hoping.
[Illustration is a photo I took in Budapest in the 1990s.]