Let's talk risk adjustment and the problem with averages. The picture below is two hypothetical diseases with twenty patients where the average cost to treat is $1,000 per year for each condition. However the spread in the cost varies. Condition A is tightly clustered while Condition B has a very large spread between the low cost members and the very high cost members. What does this mean for risk adjustment and cherry picking?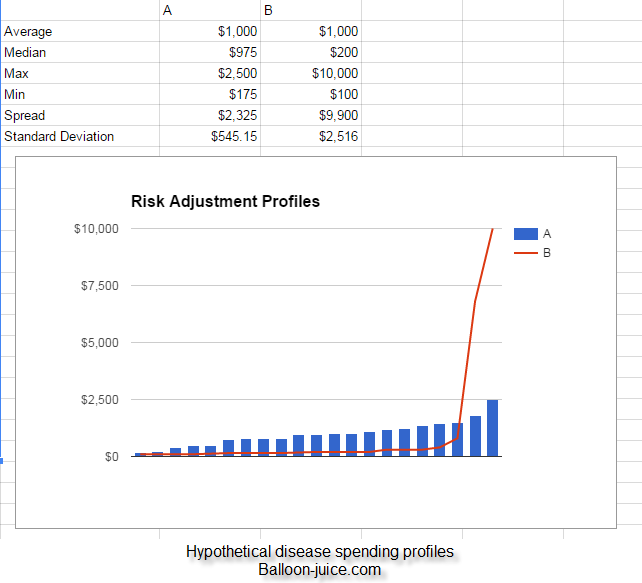 These two diseases have the same average incremental cost to treat ($1,000) but applying similar risk adjustment to these diseases will produce very different insurer behaviors.
Let's review risk adjustment before we figure out why insurers will respond to the same method depending on the disease profile.  Risk adjustment counteracts the simplest way to make money as an insurer.  Insurers can make a lot of money by charging high rates to low risk people while running far away from high risk people.  That can be okay in insurance systems where we as a society do not care that everyone is covered.  Travel insurance or auto insurance will be good examples of this.  However for health insurance in a world of guarantee issue and community rating with multiple payers which is most government sponsored health insurance market groups (Medicare Advantage, CHIP, Medicaid managed care, Exchange) this is a major issue.
The optimal strategy for any individual insurer in a world without risk adjustment is to collect the average premium without taking on average medical risk.   This logic produced the Gresham law race to the bottom   for AIDS drug benefits where ugly plans drove out attractive plans from the market.
Risk adjustment is the counter to this individually rational but market destroying behavior.  In the simplest form it is an attempt to give more money to the insurers that have higher medical risk.  Ideally, it should move money around in a way that insurers are fundamentally indifferent to the medical risk that they bear so that insurers then compete on their provider costs, networks, benefit design, member services, and disease management capabilities.  Risk adjustment can be bump payments with external funding (Medicare Advantage does this) or inter-insurer revenue neutral transfers where insurers with healthily coded risk pools send money to insurers with sicker than average coded risk pools (Exchange and at least some Medicaid managed care states).
The size of the payments can be either a proportion of average premium times a multiplier or a lump sum transfer.   Medicare Advantage gives a lump sum payment to the insurer for each diagnostic category.  Exchange will take a multiplier of the average premium in a state and use it to calculate the individual insurer's relative risk.
So now that we covered the basics, how would insurers react to these two disease profiles?  Disease A is tightly clustered.  The spread is a little more than twice the mean and the median is almost the mean.  The most expensive patients are not extreme outliers compared to their peers.  An insurer would love to get all of the low cost members with Disease A and pocket the risk adjustment transfers.  The insurer would profit as the transfer payments are more than the cost of actual treatment while their competitors would be holding the bag on the few above transfer payment cost to treat individuals.  But the amount of money that could be gained by successfully skimming the risk pool is not substantial.
Disease B is a very different profile.  It has the same average cost as Disease A but the distribution is very different.  Eighteen of the twenty individuals have costs that are less than the average costs.  Two individuals have costs substantially above the average ($5,000 and $10,000) so 10% of the pool is driving 75% of the costs.  This is not atypical as health care is a Pareto industry.
A flat bump payment produces very bad incentives.
Insurers would compete vigorously to get the bottom 90% enrolled as these members are profit centers after risk adjustment.  The problem is that every insurer is going to run like hell from the two high cost members.  They are guaranteed money losers.  This means networks will get cut, drugs will be placed on high cost sharing portions of the formulary and every other barrier to enrollment will be set up.  If a carrier in the first year gets a large number of the very high cost individuals within a disease category they will change their offerings to make it ugly in the second year.
This incentive can be beaten if there is two part risk adustment.  The first part would be a bump payment or a base score for relative risk calculation purposes that effectively covers the standard of care for the eighteen low cost individuals.  The second part is a catastrophic reinsurance or bonus score for relative risk calculation that only applies to individuals with certain procedure codes and documentation.  At that point, the incentive to run like hell from the sick and cherry pick the risk adjustment gold mine is minimized at the cost of higher administrative complexity.
Later on this week, we'll talk about concurrent and adjusted period risk adjustment and the challenges both try to solve.