Here's an incredibly beautiful photo of a yellow-crowned night heron from faithful reader cope: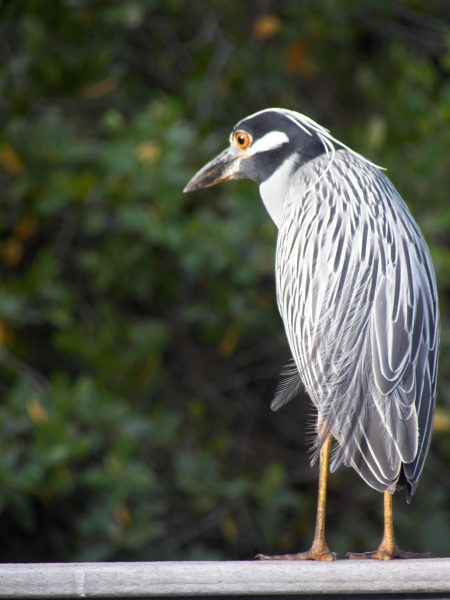 The bird looks kinda worried. Or maybe I'm just projecting my anxiety onto the bird.
What's got my feathers ruffled, you (didn't) ask? Oh, just this:
Carter Page, a former foreign policy advisor to President-elect Donald Trump, recently went to Moscow to meet with "thought leaders," where he made a speech exclusively broadcast by Russian state media outlet Russia Today in which he announced Trump's Secretary of State nominee before the Trump transition team officially announced it here in the United States.

Now, according to Russian state media, Page has sent a letter to Senator John McCain (R-AZ) which contains threatening language toward the United States' national security, as well as the safety of U.S. military forces.
The "threatening" language is as follows:
"Any efforts by members of Congress now to undercut potential new approaches to Russia would risk U.S. national security and innumerable service members [sic] lives."
The author of the linked piece tried to confirm receipt of the letter, excerpts of which were published by Russian propaganda outlet Sputnik. But thus far, McCain's office hasn't responded because of the holiday break.
When asked by reporters about proposed Obama administration sanctions on Russia for the election hacking, Trump spewed forth this word salad:
"I think we ought to get on with our lives. I think that computers have complicated lives very greatly. The whole age of the computer has made it where nobody knows exactly what's going on. We have speed, we have a lot of other things, but I'm not sure we have the kind of security we need."
Sounds like little Barron needs to explain The Cyber to him again. When the reporter followed up with a question about Lindsey Graham's statement, that the sanctions should target Putin personally, here's what the shitgibbon said:
"I don't know what he's doing," Trump said of Graham. "I haven't spoken to him. As you know, he ran against me."
It's all about him, you see. The hacking benefited Trump, so it's no big deal, just as his massive and unprecedented conflicts of interest are no big deal. Graham ran against Trump, so he's irrelevant.
The Russians — and indeed every tinpot authoritarian regime on the planet — have figured out how to "hack" Trump: just recognize that he has an advanced case of narcissistic personality disorder and manipulate him accordingly. What could possibly go wrong?
Anyhoo, don't focus on the doom and gloom; look at the pretty bird instead. Open thread!