This is one of my major pet peeves about our society, so please allow me a moment to rant. I stumbled across this in the Washington Post: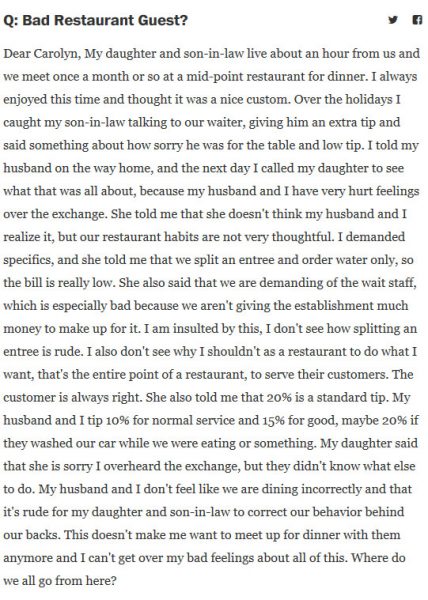 People like this exist, and I hate them. I already hated them halfway through, but when I got to the "if they wash my car" I wanted to hunt them down so I could spit in their food and save the wait staff from getting fired.
Now I am not going to get into a debate about whether our current system of tipping makes sense, because it doesn't. Wait staff should be paid a salary. But I doubt we are going to change that, so here is my own personal rule of tipping. Always tip 20%, at least. If you go with a large group that takes up a lot of the time, tip 20%. If you are alone, then definitely tip 20%. And if your bill was super cheap, like say 6-7 bucks, just give them a ten.
These people work hard, bust their ass, and there are a whole lot of good reasons why you should tip well:
1.) They are not paid minimum wage.
2.) They have to deal with you. Now you may think you are a fucking ray of sunshine and source of eternal joy, but I am here to tell you that you are not.
3.) Most of the "mistakes" aren't their fault. The cook fucked it up, their boss is a jackass who has a stupid system in place, they are overbooked, etc.
4.) They have to deal with you, and as mentioned before, you suck. You really do.
5.) Often times their owners find ways to fuck them on the wages they do earn.
6.) They work horrible hours, have shit sleep patterns, and almost never have a stable or normal schedule.
7.) If they are female, they are being sexually harassed all day every day. Trust me on this. And it probably isn't just the customers doing it.
8.) It's hard work. It really is. I was a waiter, a bus boy, a doorman, a bartender, a cook, and a barback at different times in my life. By far, the hardest job in there is being a waiter. You're constantly on your feet, being yelled at by everyone, and they have to deal with you, who really suck even though you still don't believe me.
9.) The absolute best way to put money into the economy is to tip people. These people will spend it.
10.) It makes you feel good.
11.) It ensures that you will get good service the next time you come back.
12.) When you tip appropriately or overtip, they aren't getting rich. It's probably just making up for the degenerate scumbags above who think 10% is appropriate.
13.) They probably don't have health insurance. I remember hoping for a busy night when I was a waiter so I could afford a prescription for an antibiotic and cold medicine.
14.) MANY MANY MORE REASONS
Now look, I know not everyone feels this way, but my attitude is if I am eating out I should be able to pay 20% or better. If I can't, and a couple extra dollars is going to break the bank, I should be eating at home. Most people tip 15%, which is the norm, but I have my own rules. Obviously there are different rules for booze, but since don't drink anymore I am not up to date and don't want to say anything.
So, for all these reasons and more, if you go out tonight, tip your staff well. I sometimes even write notes on the bill- "Service was great, thank you" or something of the sort.
And yes, I know this sounds strange coming from someone who seems grumpy and angry all the time. That's internal. I believe in being decent to people in public because being in public is horrible because, well, you are there. And you suck.