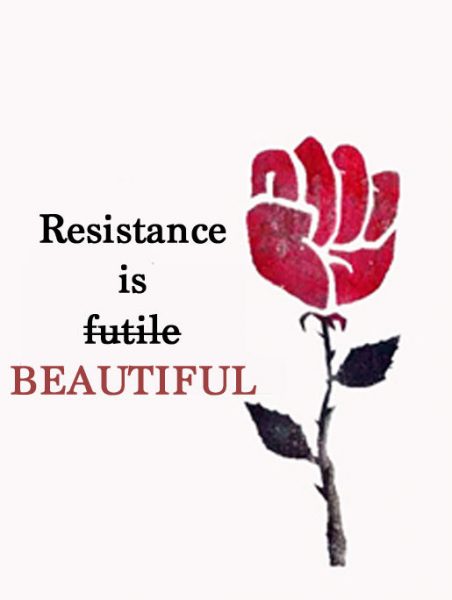 From faithful Sunday commentor Marvel:
I'll be going with some friends on the 21st to the Women's March in Eugene, OR and I've put together a design for some placards & patches. The underlying graphic (a fisted rose kinda thing) came from an uncredited photo of grafitti from somewhere (also unnamed)…else I'd credit the artist / photographer, u-bet.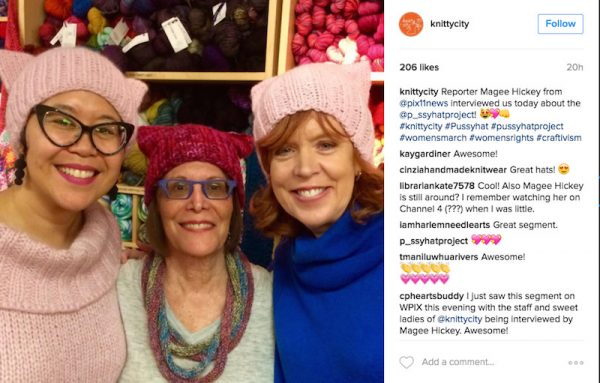 Also, from NYMag's The Cut:
The day after Donald Trump's inauguration, an estimated 200,000 women will march on Washington, D.C., to stand up for equal rights. And at least a couple thousand will be sporting pink knit "pussy power hats." The Pussyhat Project, which launched in late November, has thousands of followers on social media, and its organizers told the Huffington Post they believe 30,000 to 100,000 cat-eared hats have already been knit.

"For me, a lot of the magic lies in [saying], 'Hey women of the country, you might not think you're politically active, but you're already community organizing in your knitting groups and women's groups, you just don't call it that," said Krista Suh, one of the project's organizers. "The Pussyhat Project calls it that, which is where a lot of the power comes from."…

Now just throw on your "Nasty Woman" T-shirt and you're ready to go.
More hat pics at the NYMag link, including Instagram links to the knitting pattern (if you're crafty like that, or know someone who is).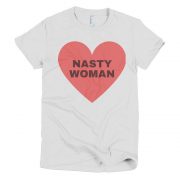 ***********
Apart from sartorial planning, what's on the agenda for the day?
***********
Then again, if you know someone who's going to the Trump inauguration (possibly under duress), BoingBoing has a different millinery suggestion…

Stay warm and weird ?????? Cthulhu/Zoidberg/Cephalopod Ski Mask Hat, $12.99 in our store https://t.co/wMVL3GSHOX pic.twitter.com/oOWsrQJevA

— Boing Boing (@BoingBoing) January 5, 2017
Does it come in the colour out of space? https://t.co/Q90F9q7HfA

— Dave Weigel (@daveweigel) January 6, 2017