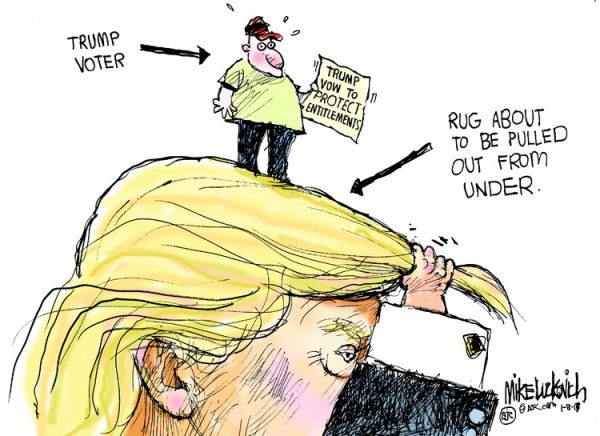 I believe I may have discovered the platonic ideal of all "Poor Little WWC Voters!" stories. And because it is from the Washington Post, I strongly suspect its bathetic overkill may be entirely intentional. "How nostalgia for white Christian America drove so many Americans to vote for Trump":
… Residents and tourists from far-flung states mill along the thoroughfare, past the quaint low-slung shops made of Mount Airy's famous white granite and named, like Floyd's City Barber Shop, for references in "The Andy Griffith Show," the folksy comedy set in the idyllic fictional small town of Mayberry that first aired in 1960.

And yet even as this city of about 10,000 nestled in the Blue Ridge Mountains fills its coffers by selling nostalgia, many of its residents would agree with the now-popular saying "We're not in Mayberry anymore."

If only the real Mount Airy, which has experienced decades of economic and social decline, were like the Mayberry facade, muses Mayor David Rowe. If only his city and the rest of America could return to the 1950s again.

"Now it's about secular progressivism, not the values you get out of this book," such as honesty and hard work, said Rowe, 72, jabbing his finger at the leather Bible on his office desk.

But as Donald Trump prepares to move into the White House, Rowe and many of his constituents are hoping for a return to the past…

Seventy-four percent of white evangelicals believe American culture has mostly changed for the worse since the 1950s — more than any other group of Americans — compared with 56 percent of all whites, according to a 2016 survey by the Public Religion Research Institute. In sharp contrast, 62 percent of African Americans and 57 percent of Hispanic Americans think the culture has changed for the better, the survey said.

"You think back to the 1990s, and conservative Christians could throw around the phrase 'moral majority,' and there was a kernel of truth to that," said Robert P. Jones, chief executive at PRRI and author of "The End of White Christian America." "Even in 2008, they could say the country is on our side on [same-sex marriage], and that's changed so quickly in this last decade. The election hit on fundamental questions about what America is and should be."…

Thomas, who blames the loss of his $75,000-a-year factory job on Obama, now makes $18,000 working in his friend's gun store and pawnshop. He is hopeful Trump will bring jobs back.

His colleague, Dreama Staples, 53, said people are bringing in their prized possessions to sell so they can buy groceries and gas. At 4.8 percent, the unemployment rate in Surry County is similar to the national figure, but Staples said that finding full-time work with benefits is difficult. She said she has grown angry over what she considers government overreach.

"We're losing control of our freedoms," Staples said. "The government was taking away our rights. Taxes are higher, our jobs are gone, and it just feels less Christian."…

Not everyone is nostalgic for the 1950s.

Ron Jessup, 68, who grew up in Mount Airy during that era, found the place generally friendly then, he said — as long as he and other blacks obeyed the racist laws and social mores of the time.

If African Americans went to the theater, they sat upstairs, he said. If they went to the restaurants, they avoided the counter. "We understood what was considered our place," said Jessup, who is retired from his job as a high school principal in nearby Winston-Salem. Even now, all five Surry County commissioners are white.

White residents tend to view the city's history through rose-colored glasses, he said. Even Andy Griffith said the show wasn't based on his home town, Jessup noted. Indeed, in a 1998 television interview, Griffith said the idea of Mayberry came from the producers. "I've argued about this too long. I don't care," he said of people in Mount Airy. "Let them think what they want to think." Andy Griffith never returned to live in his home town either, dying in 2012 at his coastal home in Dare County.

Ironically, when the show first aired in 1960, the intent was to hark back to an even earlier era — the 1930s, Griffith has said.

As for Trump, Jessup believes his "Make America Great Again" slogan was code for "take America back again," and a reaction to President Obama's election.

"Sometimes we use Christianity when it's convenient for what we want," Jessup said. "You can't allow someone to have racist remarks and then go to church and talk about Jesus as the center of your life."…

When she travels with her pastor husband, Thresa Tucker hands out an evangelistic tract that uses "The Andy Griffith Show" as an entry point for talking about Jesus. When they return home to Mount Airy, she said, she is reminded of how good they have it, pointing out the red barns that dot views of the Blue Ridge… Many of those who have lost jobs seek help at White Plains Baptist Church, where her husband is preacher. But not all who seek help are worthy of it, she said. The church has to be a good steward of its money, so there are criteria for assistance, and she asks whether people attend church regularly. African Americans who have voiced concerns over what Trump will do for the poor would have a different perspective if they tried harder to help themselves, she said.

"I think black people think they're owed something," she said. "I think if they acted differently, people would be apt to help them." She later added that some white people expect handouts, too.

"I believe Trump will get people back to working," she said.

David Tucker said people resent it when the government tries to supplant the role of local ministries in helping those in need. "Don't try to change us into something like New York," he said. "All we really want is for the government to leave us alone and to worship the way we want to."…
All they really want is for their tribe to have all the power, especially the power to determine who gets to prosper and who gets to suffer. They dream of returning to the (imaginary, dream-fueled) days when a white man was the right man, and the rest of us knew our (lower) place. What else, after all, would Prosperity Jesus do?