First, in honor of the holiday, I'll mention that Dexter King is, and the late Coretta Scott King was, vegan. Both saw veganism as a natural extension of Dr. King's nonviolence philosophy.
Now, onto the victory:
On Saturday, officials of the company that owns the Ringling Bros. and Barnum & Bailey Circus announced that it will close in May, ending a 146-year run that dates back to a time before automobiles or airplanes or movies, when Ulysses S. Grant was president and minstrel shows were popular entertainment.

What killed the circus? There are many suspects: increased railroad costs. Costly court battles with animal rights activists that led to an end to elephant acts — and the fact that some people didn't want to see a show without elephants.
Or with any other captive, tormented creature.
Although some may feel a nostalgic pang, keep in mind that: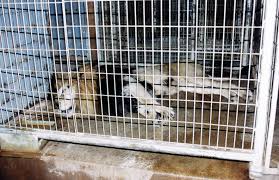 1) Ringling was an egregious serial animal abuser and violator of the Animal Welfare Act.
2) Even absent "official abuse" the circus is truly the "cruelest show on earth," subjecting beautiful wild animals to kidnapping and family separations, prolonged confinements, and cruel "training" methods.
3) You can have some good circus fun absent the cruelty and abuse.
This is a particularly sweet victory coming mere months after SeaWorld's announcement that it will cease orca breeding and performances, and TripAdvisor's announcement that it will delist many animal-themed entertainments. One day–and probably sooner than we all think–live-animal entertainment will be considered an embarrassing relic, and we'll all be grooving on virtual attractions and wondering what all the fuss was about.
There's been some effort to dilute the role of animal activists in this victory–talk about transportation costs, etc.–so I'll let Kenneth Feld (chair and CEO of Ringling's parent company, Feld Entertainment) have (almost) the last word: "In the past decade there's been more change in the world than in the 50 or 75 years prior to that."
Thanks to the decades of activists that made this happen, and thanks in advance to the activists who will open even more cages in the future.