There's been a lot written about "resistance" lately, and I'm all for it, and of course it's a wonderful topic for Martin Luther King, Jr. Day.
I've done my share, but never anything like what animal activist (and FOIA ninja) Ryan Shapiro describes:
My first arrest was at Ringling Brothers in 1997. We locked ourselves together using steel pipes to prevent the circus from getting the elephants into the auditorium. For a period of hours, our action shut down the circus (and led Ringling Brothers employees to position the elephants such that they urinated on us, resulting in us marinating in gallons of elephant urine both while locked down at the circus and then later in jail in Southeast DC).

Now, after 146 years of abducting, enslaving, and torturing animals for profit and amusement, Ringling Brothers is shutting down for good. I honestly can't believe it. However Ringling Brothers' PR team might spin this, there is simply no question that decades of aggressive animal rights activism of all sorts played a critical role in bringing this behemoth of cruelty to its knees. Amazing. We actually did it. We ended Ringling Brothers.

Now we need to end the rest as well. Whatever your style of activism, go do it. Do it now. Do it more. Do it better. Get the fuck out there and keep doing it. I'm so proud to be part of this great struggle for freedom and justice with all of you. Together we just killed a giant. Now on to the next. Animal liberation now.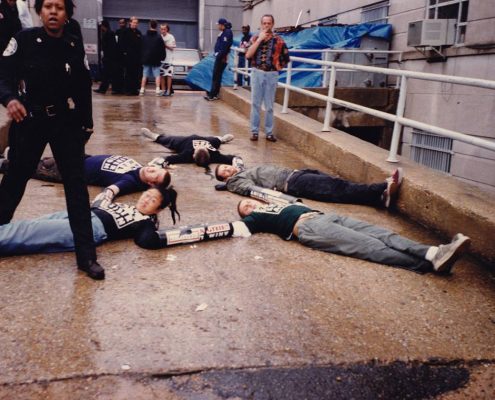 The point is not to convince everyone to put their bodies literally right on the line (against animal exploiters or Trump or any other oppressor) like Shapiro and his colleagues did. (Although if you can, more power to you!) It's to talk about implacability, which I think is a key ingredient of any resistance / revolution. Animal abusers and exploiters know we (the animal rights / animal liberation / vegan community) isn't going away or relenting–in fact, that we're just going to get stronger–and that gives us a lot of power.
It's similar, really, to what I see in this community when a nonhuman or human community member needs help. The community galvanizes, everyone gets focused, people contribute their unique talents and resources, and the job gets done.
Looking forward to people's thoughts about implacability and other aspects of resistance. One thing that helps is that you don't focus too much on the opposition and how big and scary it is. You focus on the job, and on supporting your comrades.