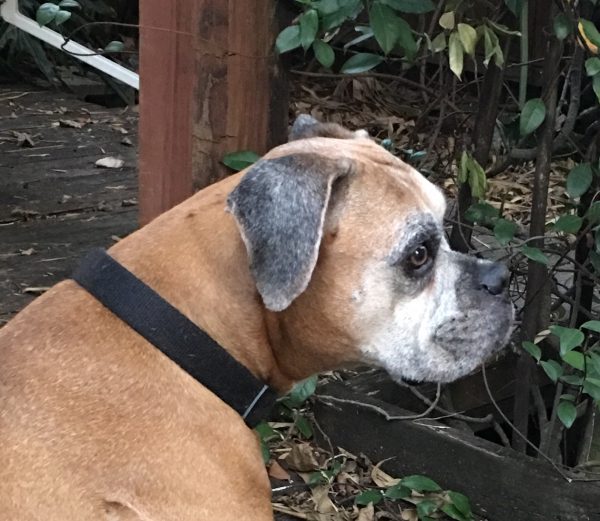 My dogs hate ice cream trucks. They cannot abide the tinkling, high-pitched songs played over the loudspeakers. As pups, they used to howl, but now they just frown. (Sometimes we howl when the ice cream truck is near to try to get the dogs to join in, but it never works.)
Daisy Mayhem, pictured above, was never a patient creature. But now that she's becoming a grizzled old dog, she has a very short fuse. Yesterday evening, I thought she was going to fling herself over the fence, find that truck and sink her fangs into its tape deck (I imagine it is an old, shitty tape deck to match the old, shitty vehicle).
Anyhoo, I recognize that look in her eyes. I've seen it in the mirror. Make. It. Stop.
Captain Obvious observation: there's much hypocritical conservative butt-hurt across the land over insinuations that Trump isn't legitimate, isn't a good person or that his upcoming Ultimate Ego Gratification Event (UEGE) should be boycotted. Even 1970s crooner Tony Orlando got in on the act!
.@TonyOrlando on #Inauguration boycott and protests: "This is embarrassing to the world." #oreillyfactor pic.twitter.com/kBJiVUf0ug

— Fox News (@FoxNews) January 19, 2017
I'm afraid the SS "Embarrassing to the World" sailed 11/9, Mr. Orlando, so tie a yellow ribbon 'round your big fat yap. Orlando is performing at one of the inaugural balls sans backup singers, so there will be no opportunity for Der Gropenfuhrer to be found fumbling at the crack of Dawn (yes, I went there…sorry).
WaPo has an article up about the blow-back groups and individuals are getting for attending the UEGE — including the Girl Scouts. From quotes in that piece and exchanges I've seen elsewhere, it seems the reaction of non-Trump supporters to the UEGE falls into at least two categories: those who view participation as validation of the "peaceful transfer of power" and those who see it as normalizing Trump.
Personally, I see it as the latter, and I wish each and every Democrat and/or person who values decency and American self-determination would decline to participate in or watch the proceedings. But I'm not going to harsh on people who feel obligated to attend, such as the Clintons. Sitting through that travesty will be hell enough.
While reading the article, I was struck by the comment of a talk radio host and parent who objected to an email sent by his kid's teacher, in which the teacher conveyed his decision to allow the class to watch the swearing-in on TV but not the speech:
Radio host Steve Gruber took issue with the email, telling the Free Press, "He has an opportunity to demonstrate that even when you lose, you come together for peaceful transfer of power. The message to 10-year-olds in his class is that the president is a bad man, and that's not acceptable."
I remember being angry when a Sarah Palin knock-off on our local school board refused to allow public schools in my district to air an address to the kids from President Obama because socialism! But the thing is, Mr. Gruber, Trump is a bad man. Let's not pretend otherwise. Hypocrisy sets a bad example for the children.
Open thread!