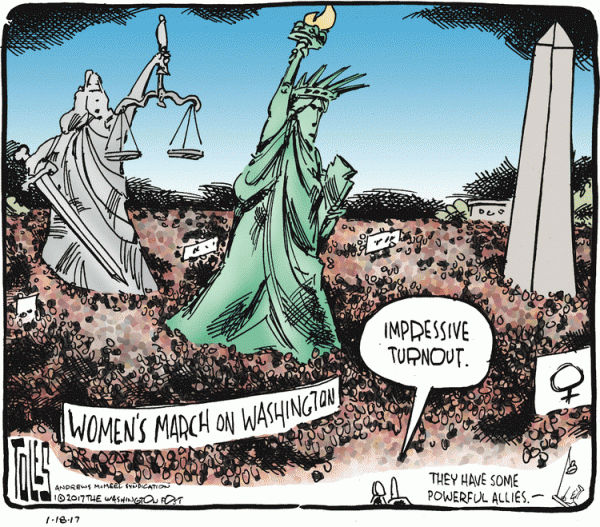 if you have a seat in your car you can offer someone looking to march in DC this weekend, check out https://t.co/0hIxUedqPy

— Caro (@socarolinesays) January 16, 2017
Advice for the locals, from the Washington Post:
Thousands of people are expected to be in the region Saturday for the Women's March on Washington, an event that could draw larger crowds than Inauguration Day itself, and present travel challenges for participants and residents.

Drivers will encounter day-long— and rolling— road closures near the Mall and public transit users should expect long waits at Metro stations and crowding on platforms and trains…

Metro announced Wednesday that trains will start running at 5 a.m. and up to two dozen trains will be added to accommodate the crowds. (The transit agency had originally said it would run regular Saturday service, which meant stations opening at 7 a.m.)

Demonstrators will gather for a rally at 3rd Street and Independence Avenue on the morning after the transfer of power to president-elect Donald Trump. The crowds will then march along the National Mall to The Ellipse, near the Washington Monument. Thousands of people are expected at the event, which organizers say is not a protest but a way to "promote women's equality and defend other marginalized groups."

The location: The stage will be on 3rd Street and Independence Avenue by the National Museum of the American Indian.

The program:
8 a.m.— activities start with images and video on display.
9 a.m. — pre-rally with speakers, music and public service announcements.
10 a.m. — the official rally starts, featuring celebrities including Katy Perry, Cher, America Ferrera and Uzo Aduba
1 p.m. — participants start marching toward The Ellipse where the program will end.

The March route: The group will begin to walk from the gathering location around 1 p.m. and march west on Independence Avenue SW, from 3rd Street SW, to 14th Street SW; then will turn north on 14th Street SW to Constitution Avenue NW; and will march west on Constitution Avenue NW to 17th Street NW, near the Ellipse and Washington Monument, where the events will come an end…
More information on parking, public transit, bike routes, and a list of banned items at the link.
Anybody who takes photos they want to share — either in DC, or at the Sister Marches — send them to me or TaMara and we'll put them on the front page.

ETA, by request: Here's Adam Silverman's post on 'Peaceful Assembly and Personal Security'.
More free downloadable @womensmarch posters, this time by @dirtybandits and @PaperJamPress https://t.co/IB7kGlmf14

— Tina Roth Eisenberg (@swissmiss) January 13, 2017