Even though the Women's March on Washington drew about three times the crowd as Trump's ultimate ego gratification event the day before, it was incredibly peaceful. In fact, multiple news outlets say there were zero arrests, which is pretty amazing.
I think the fact that it was a woman-led event with more females than males participating had something to do with that. I saw many friendly interactions between protesters and cops, including women asking for and being given permission to pat police horses.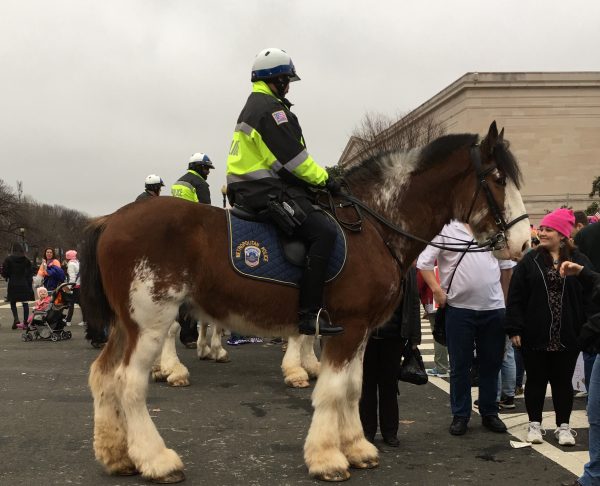 One of Trump's rally sycophants, Sheriff Clarke, painted a different picture:
What I personally witnessed Sat Jan21 in DC was a total collapse of the social order. It occurred one day after our side peacefully gathered…

Several taunted me at Women's riot. I dared those creeps to do something. They knew better & kept it to verbal insults. No cops to be found.
Possibly Clarke actually believes this, as he is a raving crackpot. But I saw a few small groups of Trumpsters try and fail to provoke marchers. Here's one such incident: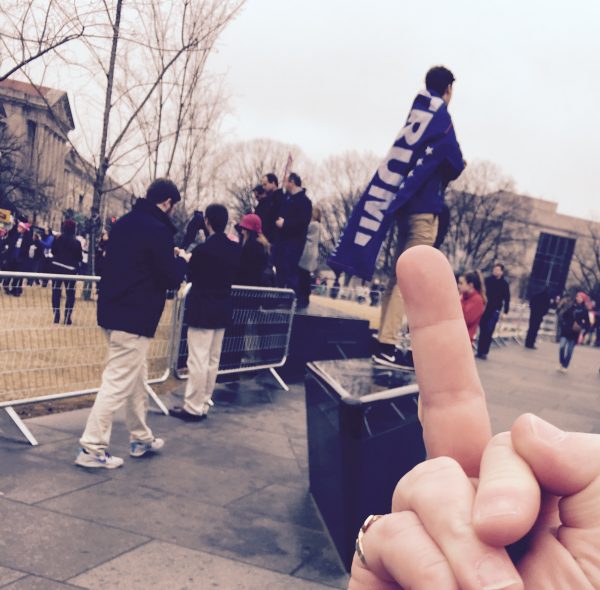 The imbecile in the Trump cape stood on that platform bellowing the name of his new baboon king at the passing marchers for a few minutes. But aside from a bird selfie taken by a nasty woman who badly needs a manicure, he was ignored.
Not sure why Clarke and other Trumpsters I've seen making evidence-free accusations of aggression on the part of the marchers have such a need to paint themselves as victims. It's almost like they need blankies, warm milk and a safe space or something.
Anyway, I'm home now, having driven nearly 2,000 miles over three days and walked 15 or so around Washington, DC with about half a million others in that city and millions more worldwide.
We drove the last 400 or so miles home in the teeth of a howling storm, crossing one tornado watch area after another. My sister-in-law, who held the fort while my sister and I went with the girls, asked me if it was worth it.
You're damned right it was, I told her. Not only did we make Trump's ego gratification ceremony the day before look as small and pathetic as the man himself, not only did we make him the holder of the record for man rejected by the most women ever, we reaffirmed something important: It's our country too.