Utah's #WomensMarch saw 6,000+ people occupy the State Capitol. Possibly biggest protest ever #utpol #utleg pic.twitter.com/VA2rb9w7lK

— Pat Bagley (@Patbagley) January 24, 2017
This is probably my next-to-last batch from BJ commentors, but I'm nowhere near tired of admiring all these Nasty Women (and allies)!
Here in New England we're getting a nor'easter of freezing sleet — wicked lucky, for January, because if the temps had dropped just a few degrees it would've been a foot or more of sodden snow.
What's the other (preferably) good news on the agenda for the day?
From "Occasional commentor" JCJ:
Pictures from Madison. Driving in it was like football game traffic.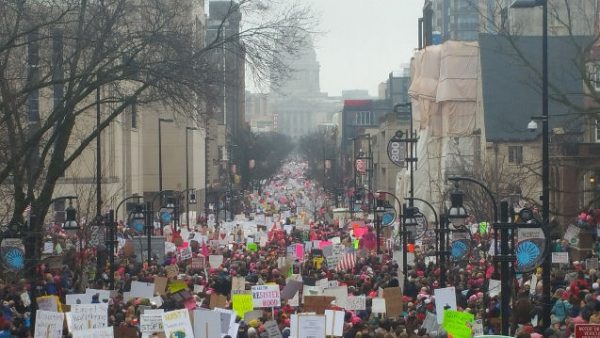 Beloved gardening-and-rescue commentor MaryG:
Just because I am still fired up, here is a picture of Bonnie the Bailbondsperson's phone number I wrote on my knee, along with bonus concerned cat; my sign, a bit worse for wear after going through narrow doors after the march, but with the names of some of those Juicers unable to march written on it… I am still gobsmacked that hundreds of people showed up and how positive the energy was.

A very cool thing happened. A van full of very young Marines from Camp Pendleton with a door decal about LIBERTY!!! pulled up and everyone on both sides got very tense. The Marines got out and there were a long few seconds of showdown-at-the-OK-Corral silence, then an older woman marcher said Good morning, gentleman! Thank you for your service! Smiles broke out on all sides, thank you, ma'ams were issued and they went into the vape shop. The driver looked extremely disgruntled, especially when I said Nice try, dude, but lame.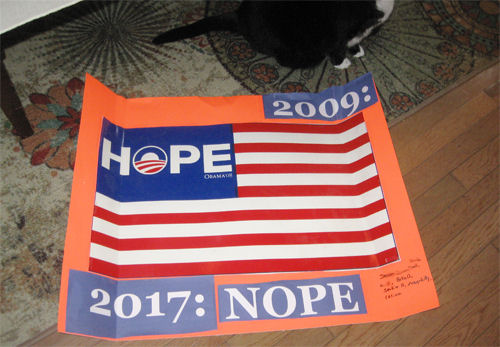 (MaryG also included an .mp4 clip, which unfortunately I can't figure out how to embed here.)
"Longtime reader and occasional commenter" Matryoshka:
Attached are a few photos from Columbia, Missouri… The march was much larger than anyone expected. We were permitted to use only the sidewalk and had to obey traffic lights, but eventually there were so many of us that we took both sides of the street and it still took us 2 hours to walk the 10 blocks or so. My favorite chant of the day was "We want a leader/Not a sleazy tweeter!"
Thanks, y'all!