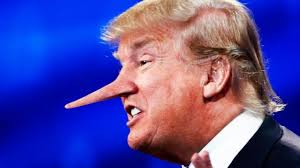 It's kind of breathtaking how these guys just really do not give one fuck about openly, brazenly, repeatedly lying about shit:
"I think there have been studies; there was one that came out of Pew in 2008 that showed 14 percent of people who have voted were not citizens. There are other studies that were presented to him."

–White House press secretary Sean Spicer, news briefing, Jan. 24, 2017

Spicer cited repeatedly debunked research to support Trump's claim that millions of people voted illegally during the 2016 presidential election. These studies do not support Trump's Four-Pinocchio claims of "millions" of people voting illegally — as we've covered here, here, here, here and here.

Spicer claimed Trump believes there was widespread voter fraud, based on studies that were presented to him. Then Spicer cited a Pew study that — as we noted before — does not support this claim. Moreover, Spicer conflated the Pew study with another study that — again — does not support this claim.
I mean, bless the WaPo for trying and I hope everyone in the media keeps it up, but these guys just don't care. It's astounding. Al Franken needs to update his book, but it is going to take a team effort.