Valued commenter Jeffro shared an anecdote in the morning thread that got my attention because I've witnessed the phenomenon myself:
I don't know if anyone else is having a similar experience, but as I mentioned last night, Mrs. Jeffro is now almost as painfully up on all things political as I am (and that is saying something). It's been a little shocking to see a pretty mild-mannered moderate lefty turn into an enraged daily activist – she's been calling our senators every single day, is ready to donate the kids' college accounts to PP and the ACLU, and plans on registering as a Muslim with me if it comes to that. (Like, WOW, dear!) Seeing the Women's March…seeing just how incredibly bad Trump has been since the election …it all has really opened her eyes. To which I can only say, "How about we go pitchfork shopping this weekend, dear?" =)
My always-liberal but never an activist / political junkie sister has undergone a similar transformation. She sent me a text a couple of days ago reminding me to call our senators to oppose DeVos. I almost dropped the phone! That's MY job, damn it! Actually, I'm proud of her and was proud to march with her in DC.
Other non-political friends have experienced a similar awakening. During conversations with people I know only casually, I've picked up on a raised eyebrow here, pursed lips there plus subtle expressions of disgust and returned the same, and soon, we're openly raking Trump over the coals and discussing which Democrat we'd like to see run for school board, council, state senator, governor, US senator, etc.
I pray (in my secular way) that the election of the unhinged, unqualified demagogue has awakened a sleeping giant. That could change the political calculus in this country profoundly. The problem is sustaining appropriate levels of outrage and avoiding acceptance of this state of affairs as normal. Here's a graphic I saw on Twitter that excerpts a Charles Blow column; it explains what's at stake eloquently: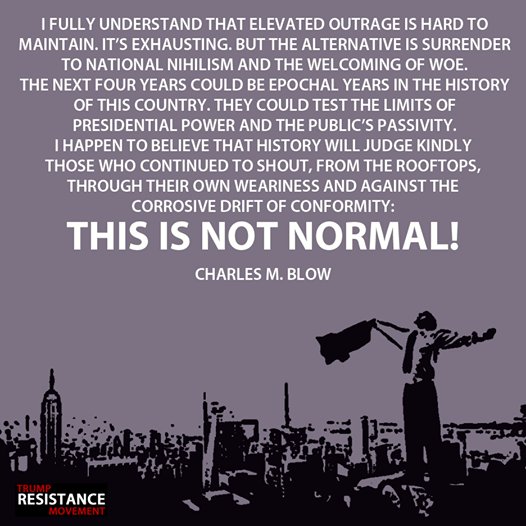 Outrage cuts both ways. It is what brought us to this pass: Damn near all of us have stories about seeing a formerly fair-minded and beloved elder transformed into a hate-filled Fox News zombie. Those folks are gone.
But we can counter lies with truth and hate with love, not through fake outrage fomented via a lying propaganda outlet but with healthy resistance to bad policies and objections to the degrading of important standards, shared via our personal relationships.
We just have to stay focused and stay outraged in a good way. It won't be easy, but it's necessary.