While I covered some of this last September, in light of AL's earlier post* I thought it was important to highlight some of this again. Specifically that the US has never cared about refugees it didn't consider white and Christian.
When Allan Tarlish of the Jewish War Veterans of America wrote to Senator Robert Taft in 1939 asking for his assistance in getting European refugees fleeing the rise of NAZIism, including/specifically Jewish ones, into the US, he was politely and longwindedly told no.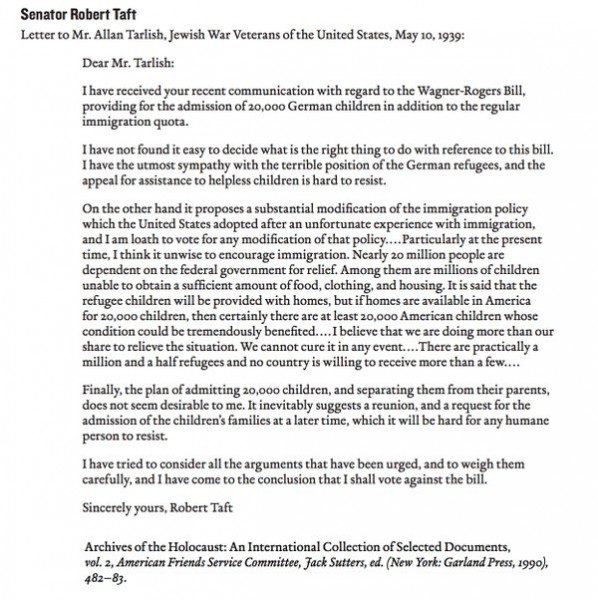 Senator Taft's attitudes and position mirrored that of US public opinion**:
US Jan 20 '39: Should the US government permit 10,000 mostly Jewish refugee children to come in from Germany? pic.twitter.com/5cFs5RabQn

— Historical Opinion (@HistOpinion) November 17, 2015
US Jul '38: What's your attitude towards allowing German, Austrian & other political refugees to come into the US? pic.twitter.com/7hMfLbXWFE

— Historical Opinion (@HistOpinion) November 16, 2015
1938 poll: Should the US offer a haven for Jewish refugees from central Europe?https://t.co/NTYfrMSXo0 pic.twitter.com/GK3avawzc6

— Rabih Alameddine (@rabihalameddine) November 17, 2015
And some things seem to never change…
LITERALLY THE SAME WORDS pic.twitter.com/saTpAHfSP4

— Jack Mirkinson (@jackmirkinson) November 17, 2015
It was during this same time period as these polls were conducted, that the St. Louis sailed for Havana. The St. Louis carried almost a thousand Jewish refugees. The plan had been to make initial landfall in Cuba and then travel on to the US from there. The refugees had been issued Cuban entry documents that were invalidated a week before their arrival. When all but 29 were refused entry into Cuba, they turned North and headed up the coast of the US as some of the refugees had relatives living in and/or citizens of the United States and almost all had applied for US entry prior to sailing from Hamburg. Here too the St. Louis was turned away and with no port to make call turned east back across the Atlantic to Europe. The official problem was the Immigration and Naturalization Act of 1924, which Senator Sessions has stated he'd like to see reinstated.
Quotas established in the US Immigration and Nationality Act of 1924 strictly limited the number of immigrants who could be admitted to the United States each year. In 1939, the annual combined German-Austrian immigration quota was 27,370 and was quickly filled. In fact, there was a waiting list of at least several years. US officials could only have granted visas to the St. Louis passengers by denying them to the thousands of German Jews placed further up on the waiting list. Public opinion in the United States, although ostensibly sympathetic to the plight of refugees and critical of Hitler's policies, continued to favor immigration restrictions.
But there was another reason these refugees were turned away, US popular opinion and leadership, including FDR, were afraid these refugees might be NAZI spies or a fifth column. And this belief persisted well into WW II.
World War II prompted the largest displacement of human beings the world has ever seen—although today's refugee crisis is starting to approach its unprecedented scale. But even with millions of European Jews displaced from their homes, the United States had a poor track record offering asylum. Most notoriously, in June 1939, the German ocean liner St. Louis and its 937 passengers, almost all Jewish, were turned away from the port of Miami, forcing the ship to return to Europe; more than a quarter died in the Holocaust.

Government officials from the State Department to the FBI to President Franklin Roosevelt himself argued that refugees posed a serious threat to national security. Yet today, historians believe that Bahr's case was practically unique—and the concern about refugee spies was blown far out of proportion.
The US's immigration policy for receiving the stateless, displaced victims of WW II and the Holocaust was much better. A lot of this seems to be a combination of Soldiers who had seen the camps and suffering in the European Theater combined with the impact that visiting the displaced persons camps had on congressional delegations. Unfortunately, the lessons regarding resisting and fighting authoritarianism and providing compassion and aid to its victims that the WW II generation learned in blood have less and less impact 72 years later. And, as is always the case in the US, hard learned and hard earned progress is immediately followed be a concerted attempt to return to the regressive attitudes, beliefs, and policies that existed before the progress occurred.
 ETA: I just want to add that given the history of how the US failed to act in regard to Jewish and other refugees fleeing the NAZIs, any Jewish American organization that does not go to the mattresses in opposition over the attempt to close off access to the US for anyone fleeing ISIL should be shunned and should close up shop. Those Jewish Americans who fail to stand up for Syrians and Iraqis and others fleeing the horrors of ISIL, regardless of their religion, should be ashamed of themselves and are a shonda for the goyim.
* I don't have much to say about the International Holocaust Day Proclamation as I have no idea who actually wrote it. I'm not even sure the first sentence is even a sentence. I have no idea, and unless there is a leak I doubt we'll ever know, if any of the three prominent Jewish Americans that the President has surrounded himself with – his daughter and son in law and his chief policy advisor (Stephen Miller) – saw this or had input into its drafting.
**Hat tip to David Matthews at Fusion for collecting all of these in one place so I didn't have to go tracking them all down again.