In my post this morning, I mentioned NY-29 (now NY-23) which was a R+5 district won by a Democrat in 2008. After redistricting, this district basically became NY-23, which is a R+3 district, after blue Ithaca was rolled in. Let's look at fundraising and results in one graph: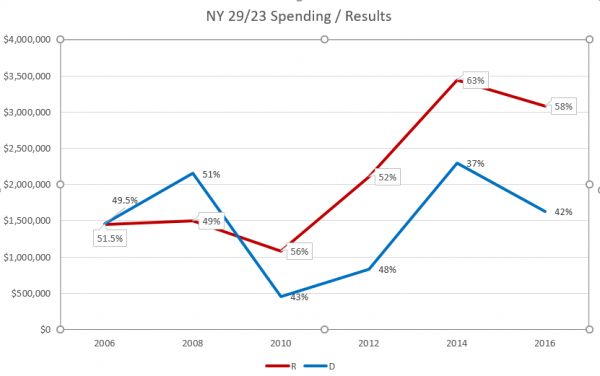 As you can see, the only Democratic win was in 2008, when Eric Massa beat Randy Kuhl by 2 points and raised about $650K more. The next tightest race was Kuhl's 2 point squeaker over Massa, where they were dead even in fundraising. Oddly enough, the next-best Democratic result was Nate Shinagawa's 2012 run, where he came within 4 points of Tom Reed, even though Reed outraised him by more than a million bucks. That was a major lost opportunity for Democrats. The worst performance was Martha Robertson's 2014 campaign, where she raised $2.3 million and got hammered. There was some ugliness in that race that put Reed well over the top. This cycle's candidate, John Plumb, was not willing to hang Trump around Reed's neck in a district that had some sympathy for Trump. Reed, on the other hand, got Plumb to distance himself from Clinton.
So, what does this tell us? First, Reed is burrowing himself into leadership and his fundraising shows it. He's going to be hard to beat, especially in an off year. Second, R+3 is not a crazy push, and the first year that the district was R+3, a decent candidate with meh fundraising got within striking distance of Reed.
Reed knows he's not in a safe seat, and if Trump continues to shit the bed violently, he's in danger. A good candidate and an early, decent fundraising haul would have Tom Reed running back to his district regularly. Someone posted the Swing Left Project in the last thread, and this district is not on it. I'm fine with that, it's definitely not a no-brainer. But neighboring NY-22 (Syracuse), which is a D+4 district, should be on the list – it isn't. So perhaps there's some other source of winnable districts, but if it doesn't have NY-22 on it, and at least mention NY-23 in passing, I wouldn't trust it.