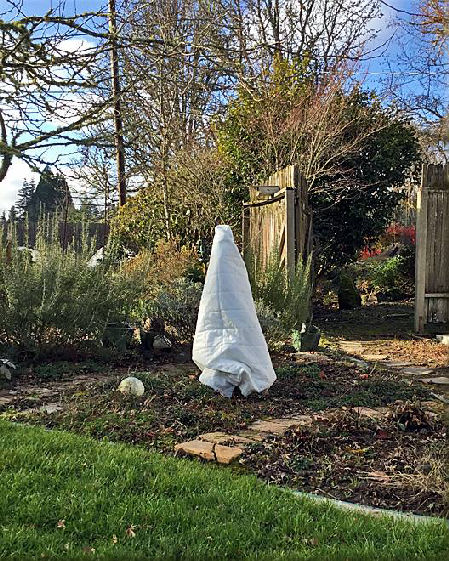 I know, I know, but life goes on regardless. From ever-dependable garden commentor Marvel:
Last night, late, I let Sally (our beloved rescue dog) out for her final bit of business. And as usual, I turned on the porch light and the floodlights that illuminate that portion of the yard. Sally jets outside and immediately starts a furious storm of barking. She's visible to me through the breezeway and all I can see is her angry immobilized self, hackles raised, yelling to beat the band at something. So fierce!

I was afraid she'd happened upon a raccoon (Hell, it was late and she was so furious, I was imagining a BEAR!). She ignored my first 20 "COME!" commands until finally the madness released her.

Once she came back in, I realized that what she was barking at was the highly-illuminated cotton-batting cloche I had earlier fashioned for the tree peony in the herb garden (the tender thing has grown buds & the forecast is bone-freezing in the coming week).

Poor Sal.
We too have, on occasion, smuggled new accessories into the side yard just to see how much they'd upset our three little rescue dogs. If an addition is particularly effective, Sydney the Neurotic has been known to wet himself (while screaming staccato and racing in tight circles)…

… whoops, we may be getting into political territory again…
Here north of Boston, there hasn't been any snow cover to speak of, but there haven't been many deep-below-freezing snaps yet either. That's predicted to change by next weekend; I'm wondering if it's worth trying to bring some of the big pots that got missed last fall into the garage, or if it's already too late to save those plants.
Also still considering not ordering any tomato plants this year. Last year was a total #FAIL, but I'm wondering how much I'll find myself at loose ends come May if I don't have any of our preferred heirlooms to look forward to nurturing. WWAPGD (What Would A Proper Gardener Do)?
Apart from the Trumpstunt fallout, what's on the agenda for the day?