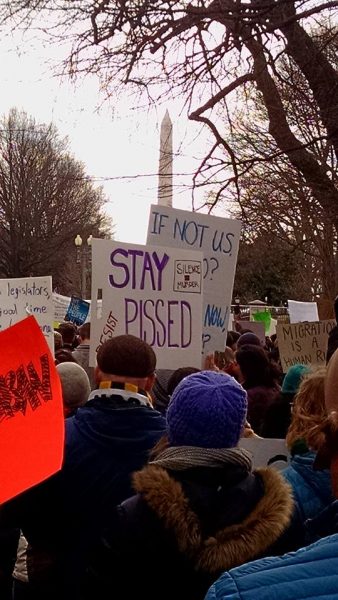 This photo, from commenter msdc, is from this weekend's DC march against the refugee ban. I'll have more of his photos and story later. I thought the photo dovetailed nicely with an email request I received.
Lizzy L asked to share this thought-provoking piece and I'm happy to do so:
Hello:

What we are experiencing right now is a GOP blitzkrieg, concocted by the Heritage Foundation and Paul Ryan and fronted by Trump. That all the cuts and executive orders are coming fast, intense and extreme is not a surprise. It is smart strategy on the GOP's part.

It seems impossible to counter all this stuff, while trying to tank Trump's nominations as well as engaging in perhaps-not-so-wise-right-now-as-it-can-wait campaigns like investigating Trump's taxes and foolhardy-pie-in-the-sky things like impeachment. You aren't imagining anything: It is impossible to stop all of it. This sucks but you must accept it. There are going to be losses, we knew that. Now they are coming. Hang in there. Step back and look at what they are going after.

Cutting the budgets of the NEA and NEH, muzzling the EPA, USDA, and Park Service, etc. are all relatively minor attacks. They might sting and that is exactly the point. Who supports the NEA and NEH? Liberals and people on the Left. Most Americans don't care or even know that these agencies exist. These attacks are aimed at our hearts. Trump and GOP don't care about these agencies. They want to demoralize us. They want us to feel defeat after defeat as soon as possible. They want us to get fatigued and give up.

If you care about this country, if you are in for the long haul, you absolutely must let these defeats go. Yes, you can care. Yes, you can get angry. But don't rest on the anger. Try to use it for energy, for motivation, but that is all. Make a note of it – we will rebuild – and let it go. There are much bigger things on the GOP's agenda – getting rid of Medicare, Social Security, stripping down government to everything but defense and police functions, and selling off whatever is public. They also want to put as much in the way between us and our rights, including voting rights, as possible. These are the things to watch and fight. While we were fretting about cabinet appointments before inauguration, Congress devalued public lands. That is the first step to selling them off and allowing mining in National Parks. Selling off what is public to corporations and the mega-wealthy is what really matters to them.

Please note that I am not saying that the NEA and NEH or muzzling public agencies does not matter. It does and we must make noise about it, but we also must look at what the GOP's fundamental goals are, realize the motives behind what they are doing, act on what we have the power to change, and be mindful of how we act and react. These people are not acting willy-nilly. As flaky and screwed-up as Trump is/seems, the people behind him are not. They are rational. They are professionals. They are tacticians. They know exactly what they are doing and exactly how to kill our spirit. This is basic strategy: Use the enemy to destroy the enemy (Sun Tzu). They are trying to destroy our resistance by creating frustration and despair, and letting that do the job. Know that. Drill that into your brain. Come back to this when you are feeling defeated. This insight in one of the most important things to know.

Scott Soriano, 1/26/17
Open thread.