First, the beauty — here's a shot of a gorgeous lizard photographed by faithful reader cope, who reports that this lovely fellow was seen in Rabbit Valley, Colorado: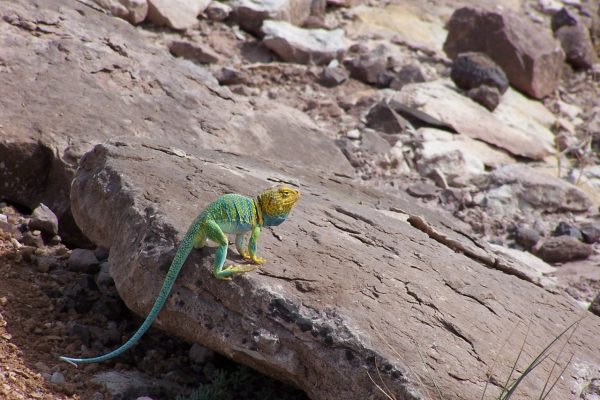 The colors on that critter just knock my socks off. If I were to order a custom paint job on a Dodge Challenger, I would designate that lizard's photo as the official color palette.
Now for the Beast — an elaboration on a theory that came to me in the morning thread:

For those unfamiliar with the concept, "transubstantiation" is the process some Christians believe converts the wafers and wine handed out during communion services to the actual body and blood of Jesus Christ.
I don't go in for supernatural stuff, but I know evil exists, and I believe it has seized power in two branches of the U.S. government and is angling for a third. Is Trump the locus of that evil – the Beast? Or is he just a third-rate conman who is acting as its front? I don't really know.
But I do know this: These are not normal times. Whether you believe there's an organized conspiracy to transform the US government into an authoritarian kleptocracy, whether you view it as an opportunistic convergence of shitlords or subscribe to the theory that it's some combination of the two, evil is afoot. And the only proper response is opposition.
Everyone associated with Trump has undergone the process of trumpsubstantiation and is therefore an evil shit-stain. That's why the Republicans in congress decided this morning to go ahead and move the nominations of self-dealing crooks Mnuchin and Price forward without a proper committee vote.
There are no rules any more. There's no neutral ground either. You don't compromise with evil. You don't accommodate it. You don't shower it with comity and hope it returns the fucking favor. You oppose it. With every fiber of your being.
Right now, I don't have a moment, a dollar or a kind word to waste on anyone who doesn't understand this.