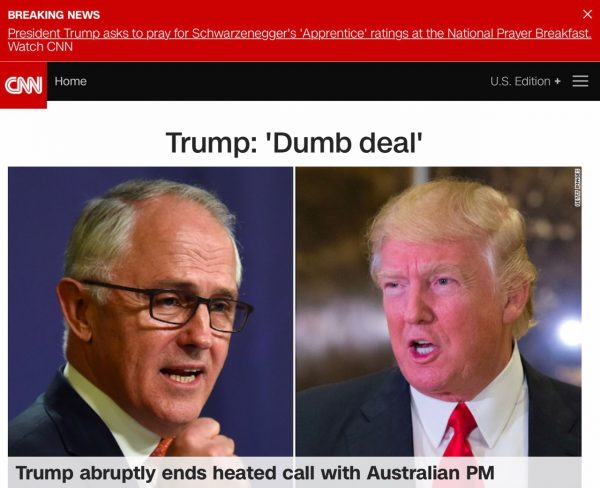 [ETA: Bonus points to CNN for the Breaking News banner.]
Malcolm Turnbull may be a bit of a cock, but he's going to come out of this looking quite good domestically, if only from sheer relief he isn't Donald Fucking Trump. Standing up to a rich dickhead gets you a fair bit of kudos down here (even if you're a rich dickhead with a sideline in migrant scaremongering yourself). Malcolm might be a folk hero in the line of Ned Kelly and Breaker Morant come morning.
Mark Kenny in the Sydney Morning Herald:
The corollary point is that Trump is the Mad King: volatile, vainglorious, and untrustworthy. Turnbull is right to handle him with kid gloves. …

Australian government sources confirm the Washington Post's story is substantially correct. Trump was angry, did describe the Obama deal as the worst he'd seen, and did treat the Australian leader with contempt.

But Turnbull persisted.

Presumably someone who stood up to Margaret Thatcher, Kerry Packer, and Conrad Black has seen bravado and alpha-male bullying before.

Heroically, the government still hopes to salvage its deal over the 1250 refugees, despite equivocations and a bizarre tweet by Trump on Thursday afternoon which appears to have all but killed it off.

The pre-eminent danger now is not this precarious deal, but the risk of sustained damage to the US-Australian relationship.

Trump is now gainsaying his own private commitments, via Twitter. This is an extraordinary situation and one that is almost impossible to manage. American prestige is on the line.

World leaders be warned: Trump's conversations are not private and his word, unreliable.
Australians take their relationship, and their long history of mateship, with America very seriously. This won't damage that greatly long term, but I don't think Lord Dampnut (h/t Anymouse at LGF) will be getting an invitation for a Presidential* tour of Australia any time soon.
This saddens me, because I was looking forward to seeing Australians welcome Trump. The protest signs would have been epic. And I might have had the chance to sneak a funnel web spider into the reception and drop it down Donald's pants. Those things are fucking terrifying.