The Republican Party does not have the luxury of time to get their act together on health policy. They have maybe fifty days to get a coherent plan with the possibility of passage before external actors move to foreclose on Republican policy option space:
So, $AET says April 1 key date for #repealobamacare #repealanddelay rules; $ANTM says will decide on pulling the plug on 2018 at end of Q2

— Bertha Coombs (@berthacoombs) February 1, 2017
Below is the Center for Medicare and Medicaid Services plan filing timeline.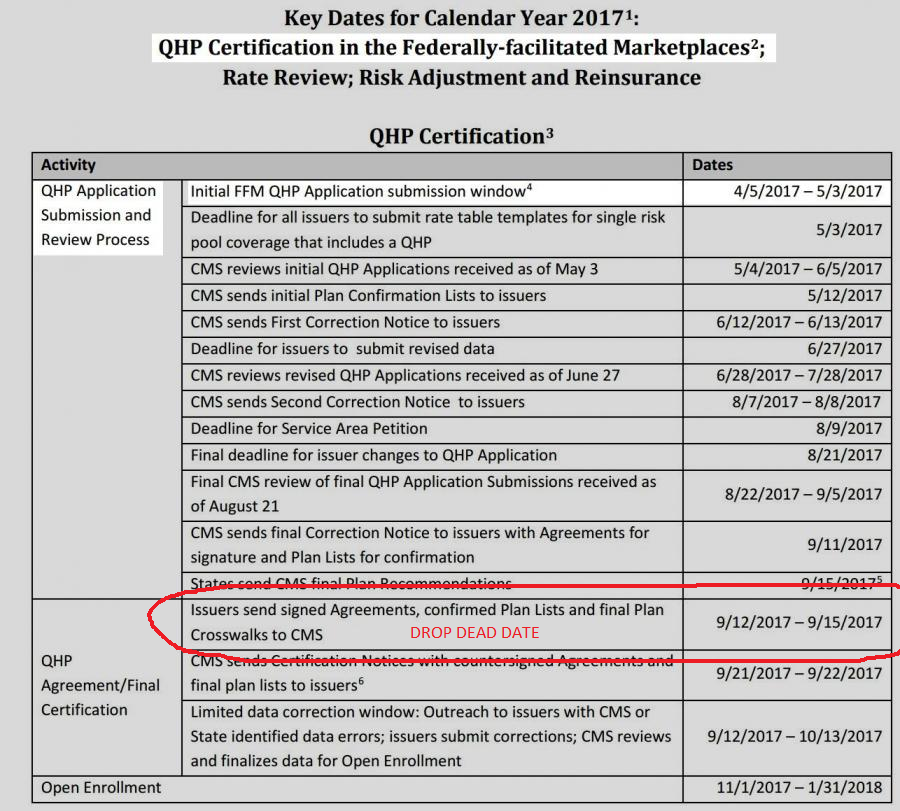 If an insurer is already in a market with an approved network for 2017, the compliance costs that are being incurred now to prepare a filing with no material changes in it is not significant for an incumbent carrier. Right now, minor network changes will be made as some doctors move into an area, other doctors retire and contracts are re-arranged and reworked as they are renewed. A few people could run the prep work right now for a caretaker filing. The option cost to offer plans on Exchange in 2018 right now is not particulary high for incumbents in current service area. The prep costs to prepare a filing for either dramatically new plan designs, fundamentally new networks or new service areas are far higher.
Incumbents can file caretaker plans through May 3, 2017. After that, barring extraordinary circumstances, the number of possible plans that can be sold will only decrease as state regulators knock out marginal networks, carriers pull back an alternative benefit design because their competitors did not offer the target the alternative was supposed to counter and providers pull out of MOU's and drop themselves from a network. That is what happens in a normal plan filing cycle. This year, quite a few carriers could decide that the policy uncertainty will not allow them to effectively project the market at all and thus withdraw in the early summer.
And as there is longer policy uncertainty the probability of policy success declines so the increased cost of having an option to participate on the QHP market will decline in expected pay-off. Carriers need to have a good enough idea of the policy environment by the middle of April. Right now, hunkering down and quietly talking behind the scenes is a reasonable and low cost option. That cheap option expires far sooner than everyone wants to acknowledge.