Hey, look — here's a pair of gators sunning at Wekiva Springs, photo courtesy of faithful reader cope: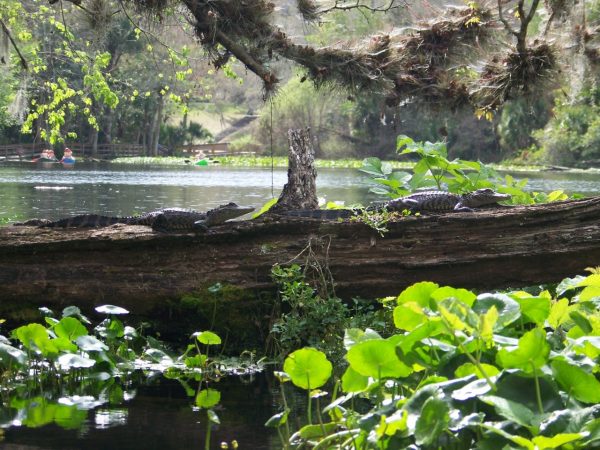 Before anyone freaks out about the kayakers in the background, these are just baby gators, the kind a Floridian would nudge aside with her foot if they were in her path on the way to the mailbox. (Not really — they could nip off a toe or two — but they're not oh-sweet-jeebus-paddle-for-your-life-size gators. It's the parents you have to look sharp for!)
Remember that wingnut ass in Michigan who proposed another Kent State-style attack on student protesters? Here, via the Detroit Free Press, is his non-apology:
"It was stupid, it was poorly done," [county Republican leader Dan] Adamini said of his posts on Twitter and Facebook. "But my goal was to stop the violence by protesters, not commit violence against protesters."

"The point I was trying to make, admittedly I did it very poorly … was that the violence is really getting out of hand, and much like in the 1960s, the violence created an atmosphere where something terrible and tragic like Kent State could happen."

"I'd like to see the violence stop before we have a tragedy."
Yeah, he's a fucking liar. Here's what he said in the tweet that prompted the backlash and non-apology:
Violent protesters who shut down free speech? Time for another Kent State perhaps. One bullet shuts down a lot of thuggery.
But part of the post-truth movement is the post-definitions phenomenon, which holds that words mean whatever the lying sack of shit who originally uttered them says they mean in retrospect.
Adamini isn't the only wingnut spoiling for a round of extra-judicial killings and maimings. That nutcase Sheriff Clarke, who used to open Trump rallies (and pathetically appears to be still sucking up for a Trump regime job via social media), also frequently makes noises about cracking protesters' heads during his many appearances on Fox News. I expect he, Adamini and the other bloodthirsty ghouls will get their wish eventually.
On that cheery note, open thread!