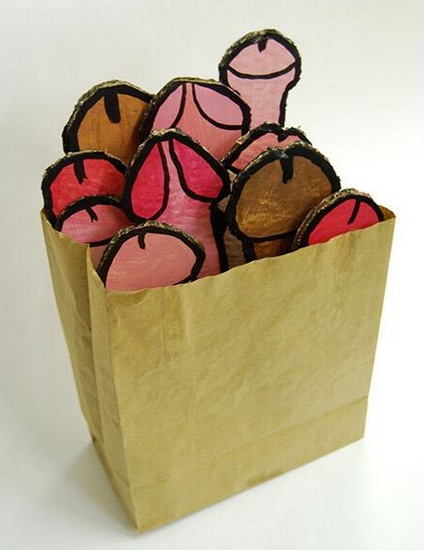 My neighbor Gerald is over helping me organize the basement, and we are going through all this shit I have accumulated and putting it where it makes sense, seeing if he wants it, or if it can be sold on ebay or maybe a yard sale, etc. Basically thinning out everything and going through the "random" boxes of stuff that accumulate when you move. Plus, I have had so many people stay over the years that people forget some of their stuff and I am trying to sort it all out, this is Shawn's, this is Christion's, this is Carlo's, and on and on. I feel like hammered shit and seem to have come down with some sort of cold, so I went upstairs to take some more alka seltzer cold and flu.
At any rate, came back downstairs and Gerald was acting weird and wouldn't make eye contact with me, pointed to a bag over in the corner, and said "You're going to have to deal with that cuz I ain't touching it." So I went over, opened it up, and much to my surprise, a bag of dildos and vibrators. Used. And girl on girl porn videos and mags. WINNING. There was actually a bag of dicks in my basement.
They are not mine and we just threw them out, but I think my relationship with Gerald has been permanently changed, and I know I am viewing everyone who stayed at my house for some duration in a new and suspicious light.