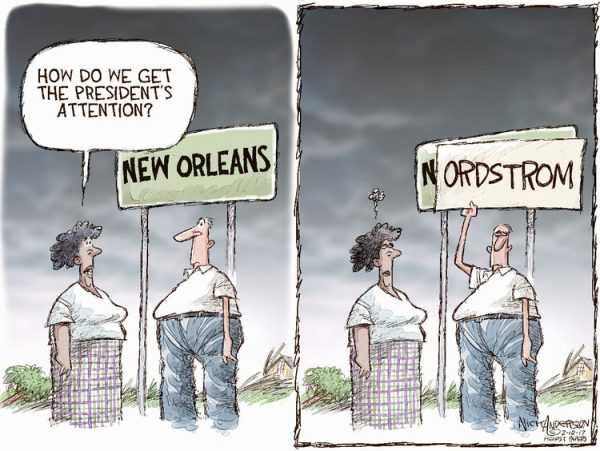 As it happened, we only got about a foot of light, fluffy snow here north of Boston, and the snowblower (which is, thank goddess, in the Spousal Unit's domain) dealt with the accumulation handily. Hope those of you suffering from other weather events — whether Nola's tornado, California's mudslides, or just the random insults of freaky February in the Anthropogenic Era — can recover with equal ease!
***********
Good advice from someone who knows — Barney Frank, at Policy.mic, "Here's how to not waste your time pressuring lawmakers":
After 32 years in the House of Representatives, here is my advice on how people opposed to President Donald Trump's assault on our basic values — a majority of those who voted last November — can best influence members of Congress. Done the right way, communications from citizens can have a significant impact on legislators, even when they claim to be immune to "pressure." ("Pressure," in legislative jargon, is the expression of views with which legislators disagree, as opposed to "public opinion" — the term used for sentiments that reinforce their own.)

The key to doing it right is being clear about the goal, which is to persuade the Senator or Representative receiving the communication that how he or she votes on the issue in question will affect how the sender will vote the next time the legislator is on the ballot…

Make sure you're registered to vote — lawmakers check.
Many office holders will check this, especially for people who write to them frequently. Elected officials pay as much attention to those who are not registered to vote as butchers do to the food preferences of vegetarians.

Lawmakers don't care about people outside of their district…

Your signature — physical or electronic — on a mass petition will mean little.
You are trying to persuade the recipient of your communication that you care enough about an issue for it to motivate your voting behavior. Simply agreeing to put your name on a list does not convey this…

The communication must be individual. It can be an email, physical letter, a phone call or an office visit. It need not be elaborate or eloquent — it is an opinion to be counted, not an essay. But it will not have an impact unless it shows some individual initiative.

Know where your representative stands…

Communicate — even if you and your representative disagree.
…[E]ven where you are represented by people whom you know oppose you on an issue, communicate anyway. Legislators do not simply vote yes or no on every issue. If enough people in a legislator's voting constituency express strong opposition to a measure to which that legislator is ideologically or politically committed, it might lead him or her to ask the relevant leadership not to bring the bill up. Conflict avoidance is a cherished goal of many elected officials.

Say "thank you." …

Enlist the help of friends in other districts.
Your direct communication with legislators outside your voting area will have no impact. But you do have friends, relatives, associates etc. Find out who the potentially influenceable legislators are on issues of prime importance to you, think about people you may know in their constituencies, and ask those who share your views to communicate with those who represent them…
Yeah, you say: Obvious! But you can read the whole thing (it's not long), forward it to your acquaintance who think that Change.org petition is the height of civic involvement, share it on social media for the use of those who aren't as politically woke as us BJ regulars…
Apart from that, what's on the agenda as we wrap up another busy busy week?